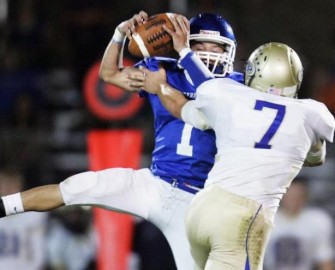 A player we have gotten to see at multiple workouts over the last month, David Ungerer III (5-7 160 Sr. Slot/ATH) out of Pullman HS, recently just landed his first offer from the Idaho Vandals.
The talented Slot/WR attended a University of Idaho team camp, and went off. His performance there combined with last season's production was good enough for the Vandals to make their intentions known. David says, " We had a good week at camp as a team, competing against good schools such as Bozeman and Capitol from Montana." He continued, " Our new young quarterback Mason Petrino is going to be really good."
Ungerer went for 1,334 All Purpose Yards last season and 4 TDs, while also leading the team in picks (4-Int's). He is a fierce athlete that is also one of the region's top basketball players. He comes from a football family, as his father Dave Ungerer is one of the most respected college coaches around, at one of the fastest rising programs in the country in Utah State.
The young David rarely left the field last year starting on offense and defense and returning most of the kicks. The Greyhounds went (6-4), but expect to come back strong this season. He will be a conference player of the year candidate, as his first D1 offer only has made him more hungry to succeed.
As a smaller athlete David brings a confidence and demeanor needed to compete at the highest level. His lack of his size is more then compensated by his overall athleticism, as indicated on both the football field and the basketball court. We can't say enough good things about the young athlete out of Eastern Washington and we will bring you updates as they happen.