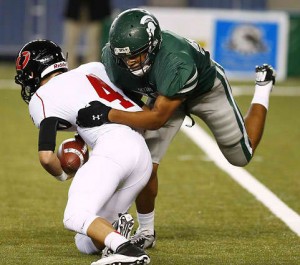 Sammamish (Wash.) Skyline defensive end Josh Wright is coming off a junior season that saw him earn All-KingCo honors as one of the top sack-leaders in the state. In addition to rushing the passer, Wright has shown that he can be equally effective against the run.
As the offseason has progressed, recruiting for the 6-foot-2, 220-pound Wright has started to pick up, though somehow he manages to remain largely under the radar. Although, it may not stay that way much longer.
Wright is our most recent addition to NEI's "Top Athletes / No Offers" list, a list that recognizes the top offer-worthy prospects in Washington and Oregon who are still awaiting their first FBS or FCS scholarship offer.
Josh has been active on the camp and combine circuit, performing well every time we've gotten the chance to see him. He also has taken visits to several Northwest colleges of various levels, and we recently caught up with Wright to recap those visits.
Oregon State: "I loved the town it was located in, Corvallis is beautiful place," Wright tells NEI. "OSU has a lot to offer as a school and the coaches are good at what they do. Also I really like the style of how the staff coached."
Simon Fraser University: "The atmosphere was great around the campus was great" Wright says. "I loved the attitude of Coach Johnson and the coaching ability of the DL coach. Also I could tell that the coaches really want their players to succeed on and off the field."
University of Washington: "The campus at UW is fantastic," he says. "The coaches there really want to improve your skill no matter how good you are. The D-line coach, Coach Lupoi, is very invested in his players and finds ways to improve your game."
Portland State: "Portland reminds me a lot of Seattle. I've always loved the city," Wright says. "The staff are a great group of guys and they coach you well. Me and the defensive line coach hit if off, and the family atmosphere there is great."
"They talk a lot about players coming back after they leave, and that's a good feeling knowing that PSU has made such a huge impact on them that they are wanting to come back and be a part of what is going on."