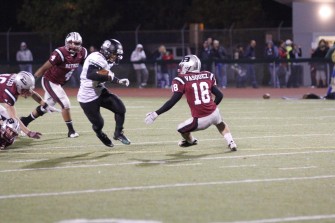 A player who has started to really pop up on the recruiting scene over the past couple of months is Emerald Ridge RB/S Ashanti Kindle. The senior-to-be is expected to be a key cog in the Jaguars' attack this fall and he's seen recruiting pick up with some good camp performances.
Kindle is a two-way threat for Emerald Ridge. As a junior he totaled over 600 yards and nine touchdowns on the ground, hauled in 23 receptions for over 300 yards and a score and contributed 40 tackles from his safety spot on defense.
As a jack-of-all-trades, Kindle has been hard at work this offseason, getting himself ready for the workload that promises to come his way this fall.
"I've been working a lot on my balance and keeping my shoulders straight and being patient in the hole," Kindle told Northwest Elite Index. "I've also been lifting a lot, working on my speed too and just getting better at everything honestly."
Kindle had a solid morning at the recent Northwest College Showcase and really impressed with his ability to catch the ball out of the backfield while showing nimble feet which make him a tough mark in the open field.
"Our offense is a spread/read-option focus, so they get you in space a lot," Kindle noted. "I'm versatile. I can run inside or outside, I can catch the ball out of the backfield, you can send me in motion and I can go deep, whatever I need to do to help my team I can do it. When I get in open space I can make people miss."
Things have just started to pick up on the recruiting front for Kindle over the past couple of weeks as he's hit camps at Oregon State with his team and Eastern Washington as an individual.
"Eastern [Washington] likes me a lot. I went to camp there and they said they were going to be out to look at me this fall," Kindle said. "I've also been hearing from Portland State, George Fox and Colorado State too."
"I still don't have any offers, so I just have to keep working hard to show I can get it done."
At 5'11 and weighing in at 196 pounds, Kindle is a solid package and he should be one of the top playmakers in the South Sound this fall. He's a name you haven't heard much about up until now, but make no mistake about it, he's definitely going to make some noise for the Jaguars this season.