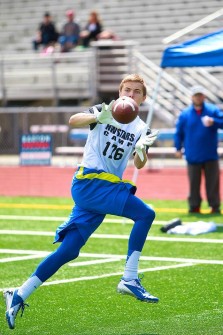 There is no shortage of impact players on the football team at Federal Way (Wash.) High School. Guys ranging from Chico McClatcher to Keenan Curran to Jay-Tee Tuili are the names you know, but there is another player emerging for the Eagles who could make a splash this fall in WR/DB Ryan Gnoinsky.
Gnoinsky first caught our eye at the Barton Football Academy Combine in Bellevue a few months ago, where he really turned heads during the testing portion of the event. The 6-foot, 165-pound Gnoinsky ran the fifth fastest 40-yard dash at the 150-plus player combine, clocking in a 4.69 seconds. He also ran one of the fastest shuttles of the day, at 4.22 seconds.
As a junior in 2012, Gnoinsky was mostly a role-player providing solid depth for Federal Way, playing behind a host of Division 1 athletes at the receiver position. Now, heading into his senior year, he's ready for his opportunity to make an impact.
"I was fortunate to play behind some really talented athletes last year," Gnoinsky tells NEI. "I learned from, and competed with, those guys all season and they helped me shape myself into the wide receiver I am today."
The Eagles haven't lost a league game in two years, and are working for that trend to continue this season. They also are working to be the first team in school history to bring home a state title in football.
Personally, Gnoinsky has some goals of his own to help both his team and himself. "I believe you should never pass up a chance to get better. My personal goal is to be at every single football workout that is offered, and then some," he says. "On the field, I hope to earn 1st Team All-League wide receiver and 1st Team All-League DB."
Gnoinsky isn't the only "new name" who should be a key contributor for Federal Way this fall. In addition to McClatcher, Curran and Tuili, look for 2016 linebacker Andrzej Hughes and 2015 linebacker Jared Pulu to play major roles in 2013. Senior FB/DT Eric Ahfua should also be a force for the Eagles.
On the recruiting front, things have been pretty active for Gnoinsky over the last month. He's been hearing from Idaho State, and attended camps at Boise State, Utah State and Central Washington.
Ryan carries a 3.0 GPA, and is in the AVID program at Federal Way. He also wrestles and plays baseball.
But it's on the football field where Gnoinsky feels most at home. "My football team is a brotherhood to me, and I will do anything for any of them," he says.
We wish Ryan and all the Eagles players luck this season as they compete for a chance to bring a state title home to Federal Way.