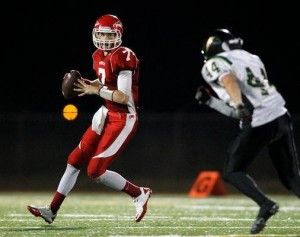 Marysville (Wa.) Pilchuck QB Jake Luton got some good news on Thursday as he received his first scholarship offer.
"I got offered by the University of Idaho," a happy Luton told Northwest Elite Index. "I camped there a couple of weeks ago and coach (Paul) Patrino hadn't seen my film, so they said I did a really good job, but they wanted to see my film.
"I called and talked to him today and he said he really liked what I could do on the field and how I led my team and he said I had an offer from Idaho."
Luton hit several camps and showcases this summer, opting to concentrate on football rather than baseball.
"For the first time since I think I was ten, I didn't do any baseball this summer so that I could do these camps and today it shows it's paying off," a Luton said. "I'm going to wait and see what other schools are interested in me. I feel like some more schools could come in now that I have my first offer, so I will wait and be patient.
"Idaho is building something there though and it would be a great place to play, so it's a great option for me and, since they were the first one to offer, they will always be right there for me."
Measuring in at a legit 6'6″ and weighing right around 210 pounds, Luton definitely has the frame to add quite a bit of size and with his strong arm and the ability to be a running threat he's a prospect that has been on several schools' radars this spring and summer.
As a junior in 2012, Luton was solid, completing 63% of his passes for 1,350 yards through the air while throwing for 14 touchdowns and only six interceptions and he used his athleticism and toughness to rack up 450 yards and 12 rushing touchdowns in the Tomahawks' run-heavy offense.