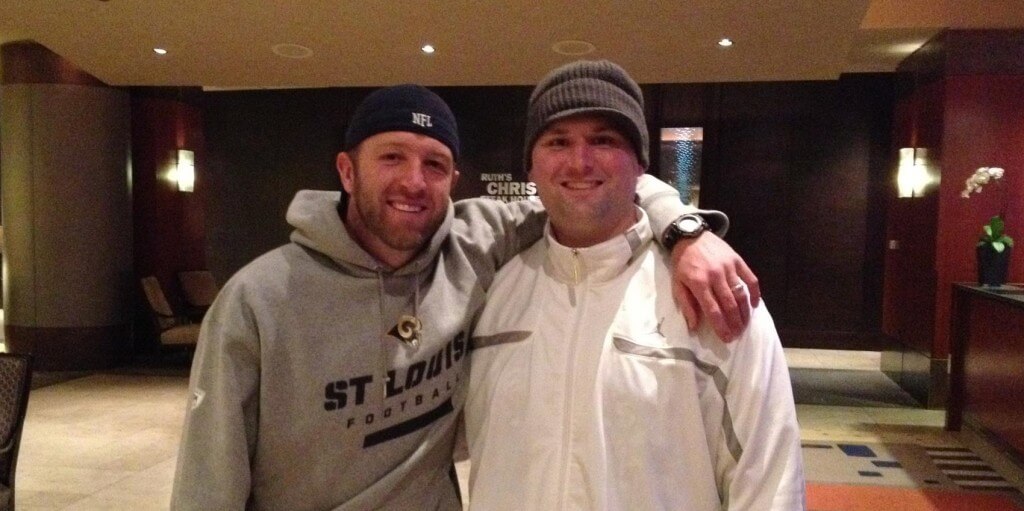 2 years ago I had the opportunity of spending the entire week in St. Louis with Rams starting QB Kellen Clemens. I took my camera out to document what an entire week for a starting NFL QB looked like. It was cool to see the normal, civilian side of things where we went out to lunches, dinners, and even went to a movie theater and saw a movie. Then on the flip side, I got to see the behind the scenes side like hanging out with Kellen at the Rams football facility where he practiced and we sat in the QB meeting room and broke down his practice film and also film of his upcoming opponent, the San Francisco 49ers. You'll get to see a very unique side of things when we talk in the car ride to the actual game stadium on game day. This footage takes you into the mind of what a starting NFL QB thinks about on his way to a game.
Kellen was the backup QB when Sam Bradford got hurt with 3 games left in the season. He's trained with us at the Barton Football Academy since he was in elementary school, so he's become like family over the years. So naturally, when I got the call to come out with him for a week I couldn't pass on the opportunity. It's been an amazing thing to see him grow up from a small town kid in Burns, Oregon, with big dreams to starting QB for the University of Oregon, to becoming an 8 year NFL veteran QB.
Kellen was part of a special group in HS out of Oregon that consisted of 3 of the 11 Elite 11 QBs that year that were all Barton Football Alumni. In the footage he talks about training with us and his experience growing up in Oregon. I'm excited to see who the next QB to make it out of Oregon or Washington to the NFL is. You better not forget about us either! Hope you enjoy the footage.