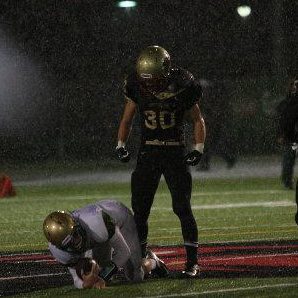 As we move into the 2013 season, one of the top ranked defensive players in the state will be Southridge LB/SS Logan Sackley (6-1 195). One of the first players that the Skyhawk kids talk about is Sackley. He started as a junior, and was one of the Metro League's leading tacklers.
Logan legitimately had a 1st Team All-League season, but didn't receive any all conference recognition in 2012. He's a super humble kid and didn't let any of that bother him as he said, "I don't get to caught up in goals for myself, but I expect to be an impact player all over the field and do everything I can to make our team successful."
As of right now Southridge will come in our Co-No. 1 ranked team state wide and athletes like Sackley are a big reason why. He is a ruthless hitter and someone quarterback AJ Woodin calls, " probably our hardest worker and a defensive leader."
The Skyhawks return a host of starters on both sides of the ball and will be a legit state title contender. Sackley is physical enough to be a dominant backer and athletic enough to be a top safety. He's a rare combo of athlete that seems to always be at the right place on the field. Arizona Commit and #1 ranked Northwest WR Jordan Morgan says it well, "The dudes raw."
Everyone in Murrayhill is excited for the upcoming season but Logan is keeping it in perspective, "The ultimate goal is to win league and then state, but we are all focused on Sheldon week one." Sackley is a quality kid and we are stoked for him and Southridge moving forward. We will bring you updates as they happen.