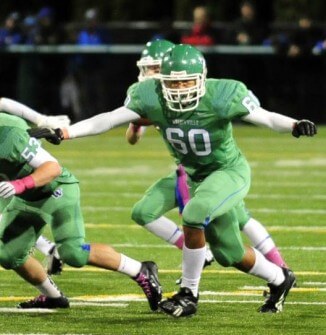 Woodinville (Wa.) has been producing quite a bit of talent over the past couple of seasons, especially along the offensive and defensive lines, and the 2014 class is no different. Their one emerging star right now is OT Andre Dillard and he already has the offers to prove he's special.
"Right now my offers are from Eastern Washington, Portland State and Idaho," Dillard told Northwest Elite Index recently. "I camped at Portland State as an individual and then my team went to Eastern's camp and did pretty well there."
In addition to those three schools, Dillard said that Army, Montana and Montana State have all been in contact.
As a sophomore back in 2011, Dillard took a back seat to some very good lineman, including Sawyer Whalen who was a unanimous All-State selection on both sides of the ball. That experience helped Dillard learn how to go about his business and last year he held down the all-important left tackle spot for the Falcons.
"I'd say I'm probably better in pass-protection just because I move my feet well and I know how to use my hands," Dillard said. "This offseason I've been working more on my footwork and also my stamina and conditioning. I want to be in the best shape of anyone on that field, so as the game keeps moving along, I'm still fresh, but my opponent gets worn down."
At 6'5″ and weighing in at a relatively svelt 240 pounds, Dillard has plenty of room to grow and the potential to be one of the fastest risers on recruiting boards this fall. His length, athleticism and work-ethic are what set him apart and why we at NEI are so high on his future.