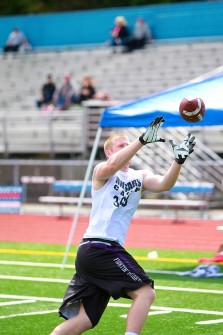 Sometimes being a skill position player can be a difficult task, especially one who plays tight end.
The tight end position in and of itself isn't that difficult, but the job of a tight end can be. For one, you need to be equally enthused about blocking as you are about going out and catching passes. Often times that means sacrificing stats for the greater good of a team goal.
Mukilteo (Wash.) Kamkiak tight end Henderson Belk is a player who understands that role well. As a junior in 2012 the talented TE had just 5 catches for 75 yards statistically, but those stats don't tell the whole story. Belk is a gifted blocker, and shown he can make an impact in the passing game when needed. He is looked impressive when we've seen him this offseason at Barton events and 7 on 7 tournaments in the region.
"I hope this year can be a 'breakout' year at tight end with all the work I've put into this offseason," Belk tells NEI. "I feel like the stronger season I have, the more I can contribute to our overall team goals."
Those team goals Belk is referring to is reaching the playoffs and winning a conference championship on the way there. "Kamiak hasn't lived up to pre-season expectations in the last several years and this team is ready to change that," Belk says.
The Knights are definitely taking steps in the right direction to achieve those goals. "One way we are working to achieve our team goals is that we have been hitting the weight room as much as possible," he says. "We lack size in some areas of the field so getting stronger has been one of our priorities."
The extra work in the weight room has already started to payoff, as Kamiak won an offseason weight lifting competition this spring at Snohomish High School.
Personally, Belk is hoping to build on last season's accomplishment of earning honorable mention All-League honors from the defensive end position. This year, he is hoping for 1st Team recognition, and possibly even All-Area if things go right.
As we mentioned earlier, despite the lack of statistics, Belk is a talented prospect drawing interest from several college programs. He camped at Washington State, Portland State and Idaho this summer, with Idaho showing great interest in seeing the first few games of his senior season.
At 6-foot-3, 225-pounds, Belk has the ideal size and frame for the position. The fact that he carries a 3.85 GPA makes him even more desirable of a prospect.
We wish Henderson and the Kamiak Knights the best of luck this season in their quest for a playoff berth!