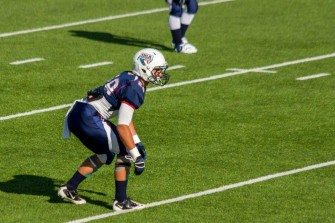 A kid you will hear a lot about in the coming years is Sehome sophomore-to-be Taylor Rapp (6-0 195 RB/S). He played varsity ball as freshman and did well, going for 425 rushing and receiving yards and 2 touchdowns. Rapp MVP'd the Barton Football Academy Bellingham Camp/Combine, and was also named an Offensive Underclassmen MVP at the region's premier Showcase event. His physical attributes and overall testing times make him one of the more appealing recruits in the Pacific Northwest.
Rapp is currently competing as part of Team USA in Boston with elite 2016 LB Joel Dublanko of Aberdeen. Both kids played on last years 16U USA team, and are considered two of the better players nationwide. In the U.S. National game versus Canada Taylor caught 8 passes for 108 yards, making it a very successful appearance.
Referencing next season Rapp says, " I want to lead my team to the playoffs and make a run… Daniel Ziegler is going to play QB, so the defense will have to account for both of us." He continued, " We have two returning linemen in Drew Norvell and Tyler Haggen that are looking great , and as a matter of fact the whole line looks amazing… They should open some huge holes for me and Ziegler."
Taylor is just head and shoulders above kids his own age right now as his 93 Nike SPARQ score indicated. He finished in the 98th percentile, and at age 15 it was the 2nd best score in the nation for his class. Referencing the Barton Football Camp and Combine tour where he dominated he says, "You guys have an amazing staff and the coaches were phenomenal at what they do… I learned a lot from them." He added, " I went up against the top competition in the Northwest at both the combine and showcase, and it was a great opportunity to showcase what I can do."
The X-factor is Rapp's overall character. Much like Dublanko, you would be hard pressed to find a better kid. He has a 3.95 GPA and remains humble in all that he does. We are excited for Taylor moving forward as he projects as a double digit D1 offer athlete. His brother will be playing at Washington St next season so you could say its a football family. We will bring you updates on Rapp and Sehome as they happen.