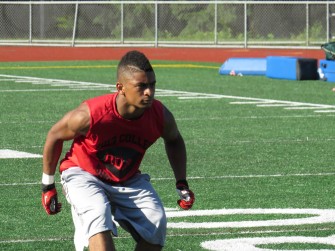 There is little debate that the football team at Camas (Wash.) High School boasts one of the most talent-filled rosters in the state of Washington for the upcoming season.
The Papermakers are led offensively by the likes of QB Reilly Hennessey, OL Drew Clarkson, and athletes Nate Beasley and Zach Eagle, and others.
But there is a player on the defensive side of the ball who had a solid season in 2012, and could become one of the state's best this fall in CB Jorden Payne.
The 5-foot-8, 160-pound Payne was a 2nd Team All-League performer last season after leading the team in unassisted tackles. He has had a tremendous offseason, and easily been one of the most impressive DB's we've seen all spring and summer. Payne plays with great physicality from the corner position and possesses some genuine "lockdown" ability.
In addition to how much he's improved on the defensive side of the ball, Payne could see his role expand even further this year. "Last year I started at right corner and I thought I had a great season," Payne tells NEI. "This year I'm definitely going to have to step up and play more offense than last year."
It's no secret that Camas is the favorite to win the 4A State Title this year in Washington, and its a goal the players are focused on.
"Last year we went pretty far in the playoffs. Being able to play in the Tacoma Dome was definitely a great experience for me and our team, and we definitely want to show the state of Washington that we belong in The Dome," Payne says.
For the Papermakers to return to Tacoma, each player will need to do their part, which is how Payne is approaching his senior season. "My personal goal is just doing whatever I can to help my team win. I'm just one small piece of a big puzzle that we're all trying to solve," he says.
Things have been relatively quiet for Payne on the recruiting front, but that all could change with a big senior season. He carries a 3.0 GPA, and comes from a football family – his older brother John also played at Camas before going on to play at Eastern Oregon.
Camas will be an exciting team to watch this fall, and Payne is definitely a player worth keeping an eye on.