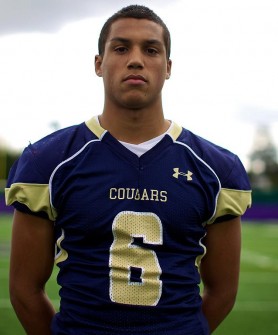 Canby has consistently been one of the better football schools in the state, and the Cougars realize that this years season has the potential of being special.
Three backs return that averaged over 7 yards per carry, and they will run behind one of the largest lines in the Northwest, averaging 6-3 280 across the board. Add in one of the state's top player's in Sam Bodine (6-2 220 Sr. LB/FB), and you have a Canby team that is dangerous not only within the conference, but on a state-wide level.
The Cougars will once again play one of the toughest schedules in the region, facing the likes of Washington 4A state title favorite Camas, along with top Oregon squads Jesuit and Tigard.
Dominic Shorter will lead the running attack after he went for 1,142 all purpose yards and 6 TD's in 2012. His stock has risen over the off season as Bodine says, "Dom's a really hard worker, extremely competitive and one of the best athletes in the league."
Two of the state's top juniors will also get carries in Jace Cates (6-2 185 Jr. RB/S) and Devon Fortier (5-10 170 Jr. RB/CB). Cates is one of the top basketball players in the state, but is equally dangerous on the football field. He had 241 rushing and receiving yards as a sophomore, scoring 3 touchdowns. His upside is off the charts on both sides of the ball.
The other talented back is the speedy Fortier, who is one of the more lethal threats in the open field in the TRL. He also averaged over 7 yards a carry and scored 3 Tds. Between the three of these backs, and D1 athlete Bodine leading the way at the fullback, the Cougars look to be in good shape.
The line will be led by three senior's, Zach Kraus (6-3 270 Sr.), Craig Fobert (6-3 275 Sr. T), and Nick Kraxberger (6-4 275 Sr.). Zach will be a three year all league starter, and a kid we became a fan of over the off season at our elite events. His brother Tony Kraus (6-3 230 So. TE/DE) is one of the top football players in Oregon for the class of 2016, and he will contribute this season after playing varsity ball as a freshman.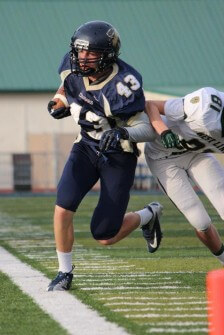 We have talked time and time again about Bodine, who currently holds a Portland St offer. He will be a conference and state player of the year candidate as he adds, "I'm really confident in our group, we have a lot of good seniors and a talented line…Now we have to execute."
Four other kids will play a key role defensively, and are legit all conference athletes in Noah Kyllo (5-10 170 Sr. DB), AJ Schlatter (6-1 190 Sr. LB), Cole Thompston (6-0 190 Sr. SS/ATH), and Alejandro Sandoval (6-2 250 Sr. DL). Kyllo got PT as a sophomore and did well. He dealt with injuries as a junior, and will come back one of the better corner's in the state and a kid not a lot of people know about.
Schlatter did well as a junior racking up 21 total tackles, with 4 tackles for loss while Thompston is a legit strong safety adding 23 total tackles in 2012.
Last but not least will be talented overall athlete Austin Taylor (6-0 180 Sr. ATH/S) who will most likely play the QB spot. Taylor caught 11 passes for 87 yards last season but did not play any quarterback. He also tied Bodine for the team lead in picks with 2, showcasing his overall athleticism.
Canby will need to take things one game at a time as they probably play the toughest schedule in Oregon. Lake Oswego hasn't lost a conference game in a decade, and they will play in the toughest league state wide this season after a brutal non conference schedule.
They will need to stay healthy and have luck on their side if they want to make a deep run. They legitimately won't have an easy game on their schedule, which is great from a competition standpoint, but tiring come playoff time. Regardless Head Coach Mike Vaught and his staff have done an outstanding job with this group, and the kids from the TRL have a lot to be excited about.