Click For Manu Rasmussen Highlights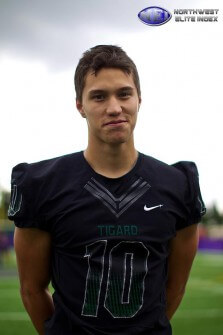 As we move into 2013 one of the top players in the region, about to go off, is Tigard's Manu Rasmussen (ATH/CB 6-0 175 Sr.). If there was one athlete that I would feel comfortable saying would go for 2000 yards and 30+ TD's this season, it would be him.
Rasmussen was a 2nd team all league DB in 2012, scoring double digit touchdowns over the last couple years. That said, last season's "three headed monster" which included senior's Zach Floyd, Kaz Greene, and Benny Wick is now gone. Manu split time with all four over the last two season's but now its his turn.
He will get to run behind one of the best fullback's in America in AJ Hotchkins (6-0 230 FB/LB) , who is one hardest hitters to ever come out of the Pacific Northwest and currently holds 4 D1 offers. Tigard made a run to the state semifinals last season, beating Central Catholic in a quarterfinal classic, before losing to Lake Oswego in the state semifinals.
Manu says, "Our goal is to take it one step further then last year, and make it so our upcoming junior's feel comfortable playing at the Varsity level." He continued, "I want to step up as a leader and keep our team hungry for the playoffs… Personally I just want to ball out, and let my hard work show from the camps and in the weight room.
Rasmussen has dominated kids in his class from a very young age going for 30 touchdowns at the freshman level, before spending the last two seasons playing varsity ball. The Tigers will open their non league schedule with Canby, which should be one of the better games of the year. After that they could very well be done by halftime in 7 of their 8 remaining games due to blowouts. The Pacific Conference will be down this season, and one of the biggest challenges for Tigard will be to remained focused for the playoffs.
This summer Rasmussen hit camps at Montana, Portland St, Colorado, Northern Colorado, and the prestigious All Poly. He is an NEI favorite and someone we are big backers of, projecting at the D1 level and just being an overall good kid.
Manu comes from a football family with his father being a high school coach, his brother being a Tigard standout from a few years back, and his cousin being a full-ride athlete at the University of Colorado. The support within has been outstanding, and he feels fortunate to have the backing that he does.
Tigard will once again be one of the best teams in the state, and Manu will be the overwhelming favorite for conference player of the year honors on both sides of the ball. We will keep you updated as things progress.