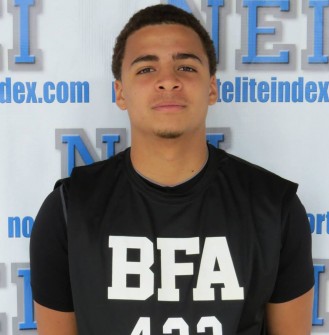 The most consistent Sr. WR in the Pacific NW coming back this season could be Zack Davis (5-11 170) of Central Catholic. He has had as good an off season as almost any athlete state wide.
Zack had what you could call a trifecta of successful events, starting with his performance in Las Vegas as part of our NEI-South All Star team. He followed that up by having an impressive Battle in Seattle 7 on 7 tournament, and an outstanding Showcase event just last month.
Davis will come back OR's #5 WR when the new rankings are released, and he will be one of the go to guys on maybe the top team player for player in the state. He caught 18 passes for 256 yards and 2 touchdowns in 2012, on a loaded CC team that had two D1 WR/ATH's in (Beau Duronslet -PSU, Lawrence Wilson- Princeton).
Referencing next season he says, "We want to win a 6A state title and become one as a team… We have top talent across the board with Chase Cole, Aaron Washington, Ryan Nall, Aidan Wilder, and Connor Humphreys. Zack added, "I feel more then lucky to have a D1aa/D1 quarterback (Aidan Wilder) to lead and carry our team… The sky's the limit with him as our QB as he is one of the smartest and most dedicated kids I have ever seen."
Davis comes from a very athletic family as his dad (Zack Sr.) was 4 year starter at defensive back for Oregon St, while his brother Lucas Hunter was drafted in 30th round by the Miami Marlins out of High School.
He says, "I plan on playing DB/CB this season to give myself another option at the college level.. I have learned from my dad, and Aaron Washington who is in my eyes and many others the best DB in the Northwest."
Central Catholic is once again loaded on both sides of the ball and will be a state title contender. It has been 30 years since any team from The Mt Hood Conference has played in a state title game (Gresham 1983), and the Rams have a legit opportunity to break the streak.
On and off the field Zack is one of the most impressive kids we have been around. He recently was the Oregon MVP WR at the premier RDAF Showcase Event in Bellevue, Washington. He should be one of the breakout players state wide this season, and we will bring you updates as they happen.