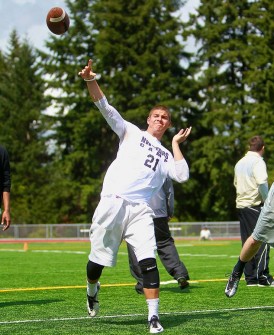 Over the past half decade Olympia has been one of the better teams in the State of Washington going (36-7) from 2008-2011, before last year's (4-7) season.
The Bears have two of the state's better skill kids returning in Mitch Fettig and Cooper Murphy, with Fettig being ranked one of the state's top DB's. Mitch was part of our NEI All Star team that traveled with us to Las Vegas this past spring, although the big addition for the Bears comes in the way of QB Derrick Becker.
Becker is considered one of the state's top 10 QB's, and a two time all league athlete that brings experience and unique intangibles to the table. Derrick transferred from 2A power Capital after a semifinal run last season and says, "The transfer to Olympia has been the best choice I could have made, everything is great from the coaches, to my teammates to the playbook". Derrick added, "My teammates are very determined to work hard and win a state championship.. After being there for 3 months I have stepped into a leadership role, and its been good to see the guys hitting the weight room and running routes with me whenever I ask."
Capital went (11-3) last season losing in the state semifinals to eventual state champion Lynden. Becker will bring a win now mentality to the Bears roster as he has grinded all off season. "Everyday I have been lifting, running, and throwing routes with my guys… I have worked out with Taylor Barton a lot over this off season, and attended the NEI Elite Events that were hosted during the winter. Becker added, "I also went to the Elite 11 regionals in San Francisco and to the NFTC in Oakland and Los Angeles, California.
He's been a busy kid to say the least and it will be interesting to see the immediate impact that he has. Olympia travels to Oregon the first week of the season to play a traditional state power in Lake Oswego. Derrick feels good about the guys that surround him saying, "Mitch Fettig is a game changer, and when you need a first down or a score he's the first guy I look to… Cooper Murphy is electric and is an outstanding DB, but gets the job done at wide receiver as well."
"Cedar Frost and Caden Waggoner will be our RB's and neither one of them are afraid to lower there shoulder… We wont be highly ranked to start the year, but we are definitely not going to be a team you can sleep on."
We are big advocates of Head Coach Bill Beattie and his program and look forward to seeing what the Bears can pull off with the addition of Becker. Olympia will know right away what they are made of, as they will play a Laker team that hasn't lost a conference game in a decade and rarely ever gets challenged at home.