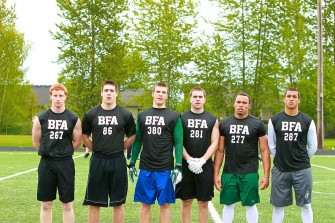 6A
( View preliminary Oregon 6A Rankings here )
Any TRL in Conference Game – Hands down the most competitive league in Oregon. Lake O, Canby, West Linn, Clackamas, Oregon City, and Lakeridge are all legit playoff teams. Each week it will be the team that's most prepared and least hurt that comes out on top. Lake O hasn't lost a TRL game since before a lot of these kids started elementary school so until they lose they are the favorite. Oregon City on the other end doesn't return many starters, but has a couple of the top younger classes in Oregon, and will be a team to be reckoned with in the coming years. The other teams in the TRL are legit top 10 teams, with Lakeridge having a lot to prove after a down year last season.
Sheldon @ Southridge – The Defending state champs will make a return trip to Beaverton, after beating the Skyhawks twice last season. Southridge will come in our Co #1 class 6a team to start the year as they are loaded on both sides of the ball. The Irish are always one of the state's best and will be ranked #4 to start the season, but the loss of 2012 Player of the Year Connor Strahm is big.
Southridge @ Jesuit – Potentially the biggest game of the Year.. The Skyhawks have beaten Jesuit two years in a row and are the defending Metro Champs. The Crusaders feature two of the top athletes in the country in Joey Alfieri and Henry Mondeaux, and two additional big time standouts in Chase Morrison and Trent Werner. Both teams will come in Oregon Co #1's to start the year, but the Skyhawks are loaded and are deep. The biggest question mark will come on the line where Jesuit graduates a D1 group and the Skyhawks return everybody up front.
Canby @ Lake Oswego – Lake O is one of the most respected football programs anywhere in the country and Coach Steve Coury is as good as they come. That said, it will be interesting to see if the Lakers can continue there decade long in conference winning streak. They return D1 kids in Nick Underwood and Jordan Horak, but lose a ton of starters on both sides of the ball. Canby will feature one of the better teams in school history and bring back a veteran line that averages (6-3 275) across the board, including POY candidate Sam Bodine at LB. Regardless LO is one of the toughest teams to beat in state, especially at home. It will be a game.
Canby @ Tigard – Tigard will play their toughest game of the year to start the season, before playing 8 teams that they should handle. The Cougars play maybe the toughest schedule in Oregon with TRL play, and then non conference games with WA 4A #1 Camas and OR's Jesuit. The Tigers took it to Canby last season, but this should be a very even contest.
Southridge @ Lake Oswego – This will be the Skyhawks last non conference game, and it will be important for them to make statement before Metro play. Southridge competed with a very talented LO team last season that played in back to back state title games, but should be able to turn the tide this season.
Lake Oswego @ Jesuit – Has been a nationally televised game in years past.. Two of the more respected programs in the country will open the Oregon season against one another, after taking last year off from playing. As we said LO doesn't return a ton of starters, but always reloads. Jesuit should have the advantage this season, but we
Jesuit @ Camas, WA – You will need to get there on Thursday to get a seat for this contest. Camas shuts down the town. Its the closest thing to a "Texas Like" environment that you will see within the Pacific NW. The Papermakers will be WA's #1 ranked 4a team, and in my opinion one of the most dominant teams in WA state history. The season opener could be their closest game of the year as I don't see anybody being able to hang, with most of their games being over by halftime.
Central Catholic @ Sheldon – Sheldon got past CC last year in a game that went to the wire, and you can expect this to be one of the more competitive games state wide as well. Going to Eugene and winning is never an easy task, as the defending state champs won't be around pushed by the state title contender.
Lake Oswego @ Central Catholic – Hillsboro stadium will be packed when these two play. Expect this to be another competitive contest between two top ranked teams. CC got LO last year, and this where the Rams need to capitalize on the ridiculous amount of talent on the roster.
Central Catholic @ Jesuit – "The Holy War" is big every year and will once again feature two of the state's top three teams. CC showed up last season and shocked Jesuit to an extent, as there is NO LOVE lost when these two play each other. Central has player for player maybe the top team in the state, but will have to break the Mt Hood Conference's 30 year disappearance from a state title game.
OTHER INTRIGUING 6A GAMES
North Medford @ South Medford – Spiegelberg Stadium is packed every year that these two play, and the games competitive makeup should be back this season. Head Coach Bill Singler always has his South guys ranked in the Top 10 or close to. North has had a miserable last decade, but is a tradition rich football school, playing in multiple state title games and featuring a special 2015 class. The Black Tornado athletes will need to show up with confidence after a (2-8) season in 2012 and prove themselves.
McNary @ West Salem – Traditional CVC power West Salem is always a favorite to win the league title, but there are a lot of question marks. The Titans Cade Smith and Keegen Hlad are the top junior QB/WR combo in Oregon, and you don't get better then Head Coach Shawn Stanley and his staff. McNary could have their best team in years and should challenge for this years CVC title, led by 2nd year Coach Isaac Parker. Perry Groves, Garrett Hittner, and Brett Hildebrand all rank among the top athletes at their position state wide and the younger guys are legit.
Coeur d'Alene (ID) @ West Linn – Coeur d' alene was the first team ever to finish in the top 100 nationally out of Idaho a few years back. The Lions got blasted out in Coeur d' alene last season, but they are one of my sleepers this year as Head Coach Mike Fanger has things dialed. It will be much more competitive as West Linn hosts the traditional Idaho power.
5A Preliminary Rankings + Top Games
1 .Sherwood
2. West Albany
3. Silverton
4. Marist
5. Roosevelt
6. Mt View
7. Springfield
8. Wilsonville
9. Hermiston
10. Crescent Valley
Sleepers:
Putnam
Eagle Point
Top Games
West Albany @ Sherwood
Springfield @ Silverton
Silverton @ West Albany
Marist @ West Albany
Marist @ 6A Grant
Springfield @ Marist
Hermiston @ Springfield
Wilsonville @ Mt View
Wilsonville @ Sherwood