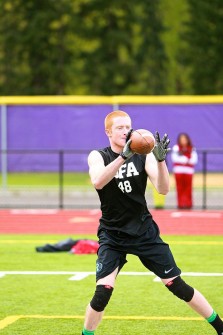 You would be hard-pressed to find another player in the state of Washington who epitomizes the term "student-athlete" better than Auburn (Wash.) Riverside wide receiver Drew Wallen.
The 6-foot-2, 180-pound wideout is coming off a junior season which saw him earn All-SPSL honorable mention honors after hauling in 43 catches for 554 yards and 3 TD's – one of the few bright spots for a young Riverside squad.
But as impressive as his accomplishments on the field are, Wallen has strung together an even greater list off of it.
Besides carrying a 4.0 GPA, Wallen has been involved with the following school organizations during his time in HS: ARHS Student Government, Student Athlete Advisory Committee, National Honor Society, Key Club and ARHS's "Be Nice Anti-Bullying Campaign" just to name a few.
He's also been active in the Auburn community outside of ARHS, including volunteering as a youth basketball referee, a christmas caroler for senior citizens, and various other volunteer work at his church, the Auburn Humane Society, and more.
Needless to say, Wallen is the total package.
Athletically, he's got much to be desired as well. In addition to the All-SPSL recognition last season, he holds the school record for receiving yards in a game with 244. Wallen is also on the school's varsity basketball team, of which he is a team captain. And, naturally, he's received the SPSL's Scholar Athlete award.
While all those accomplishments are nice, Wallen has some significant milestones he hopes to achieve this fall for both himself and the Ravens.
"The goals we have as a team this year are to win a playoff game, beat Auburn High, and to play together as a family," Wallen tells NEI. "Personally, my goal is to be the SPSL North's All-Purpose Player of the Year as well as to earn a scholarship to play football collegiately."
Coming off a 1-9 season, Wallen and his teammates know that many will question their ability to achieve those goals, but they also understand what it will take to prove doubters wrong.
"Our team has been working nonstop ever since last season ended. During the school year, we would come into school at 5:30 AM to run sprints and run through offensive sets on our own to better our physical and mental capabilities," Wallen says. "The offseason work has helped our camaraderie and taught us to trust each other, which will pay off on Friday nights."
Wallen has been spending considerable time working with ARHS QB Kevin Thomson this offseason, developing chemistry with the signal-caller both on and off the field.
The Ravens will also rely on the "three-headed monster" of Joey Lucchesi, Cole Huckaby, and James Baldwin – a trio of running backs who will carry the bulk of the workload this fall.
Wallen's strong junior season has garnered him some interest from colleges which include the likes of Yale, University of Puget Sound, George Fox and Western Oregon. With Wallen's natural size, and a strong senior season, that list could grow.
One thing for sure, whichever school ends up giving Wallen an opportunity at the next level, they'll be picking up a player who understands that his responsibilities go beyond the football field.
"I truly am a student-athlete. I believe that working hard in the class room and helping out around my community is incredibly important to being a well-rounded person," he says.