Over the next week we will be posting overviews of the 2014 Oregon and Washington updated rankings by position. All of us at NEI and the Barton Football Academy feel fortunate to be able to work with a majority of the region's top athletes. There's not a perfect ranking system, but we do our best based on all of the criteria listed. The Pacific Northwest is the fastest growing football region in the country and the kids have a lot to be proud of.
**A special thanks to Ryland Spencer and Scott Enyeart for all of their hard work and dedication. They are as good as they come at what they do.
OREGON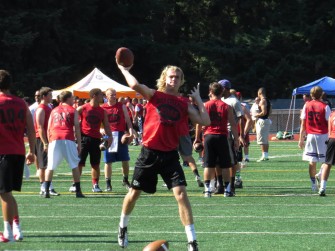 The biggest jump in the Oregon rankings came in the way of Jett Even who went from #10 to #4 after a very impressive off season. He MVP'd the Nike NFTC and did well at multiple Barton Events. Referencing Even Taylor Barton says, "Jett has the potential to be a D1 QB."
Cody Lahoda (#7) of West Albany and Taylor Loss (#10) of Scappoose both joined the party ranking in the top 12. Hayden Coppedge had a phenomenal off season, after winning a state basketball title. He projects at the D1 level, due to his size and overall athleticism. He will keep OR #1 ranked QB Aidan Wilder company as both should find a home at a FCS school or above.
Southridge QB AJ Woodin could have been the most impressive kid of the off season, other then Even, racking up multiple all camp awards at the regional Elite 11 (Golden Gun) in Oakland and the All Poly Camp in Utah (Co-QB MVP).
Click to view the 2014 Oregon QB Rankings
Washington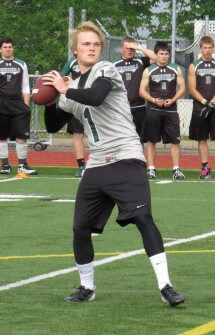 Reilly Hennessey is an FBS-type QB and will be able to demonstrate that on one of the better teams ever assembled in the Northwest. Kilton Anderson joins him and Nick Mitchell atop the polls, committed to FBS South Alabama, after transferring from Naples, FL. They are both outstanding kids and individuals you can build a team around.
Tanner Gueller (#4) made the biggest jump in the WA polls, along with Jayden Croft (#6). Gueller MVP'd the premier RDAF Showcase event and projects as a kid who has his best years ahead. Croft is athletically freaky, young for the grade, and has football genes.
6-6 Jake Luton recently landed his 1st offer from Idaho and has the potential to do some big things. Talented two-time all-league QB Derrick Becker, made the transfer from 2A Capital to 4A Olympia and immediately puts them in a position to win.