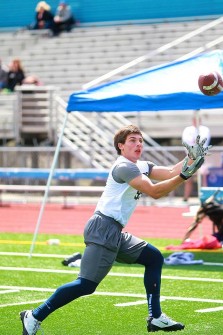 One of the fastest rising recruits in the entire region is Drew Griffin (6-0 205 Sr. WR/CB) of Bellarmine Prep. He went off as Junior helping his team to a state title appearance, then continued his tear over the off season.
He was an MVP at multiple Barton Football Academy events and has a jumped up on a bunch of D1 radars due to his play. Most of the Big Sky Schools have made contact, while Hawaii was more then impressed with him at the RDAF Showcase Event.
Referencing the upcoming season Drew says, "Losing Sefo to Colorado and Calvin Chandler to Stanford are big losses, but the Senior class showed us how to be leaders." He continued, "We have a bunch of returning starters back such as Brandon Thompson, Lou Millie, Garrett McKay, Elijah Klein, and Nick Seldon that will lead this team.. It motivates us knowing that people don't think we will do as well this year, and drives us to work harder and more together."
Griffin caught 54 passes for 738 yards and 5 Td's last season, while racking up 66 total tackles and a team high 5 Int's. He was phenomenal on both sides of the ball, and showed why he will be considered one of the top two way threats in Washington.
Drew's stock has risen almost as much as any other athlete in the Northwest over the past year. He was one of the top players on our NEI-North all star team that traveled to Las Vegas for the regional 7 on 7 tournament, and recently landed a 93.33 SPARQ score which was good for 22nd among 500+ participants.
Speaking on the future and recruiting he says, "It has always been my dream to play college ball and im still waiting on that first offer, but talking to most of the Big Sky schools and a couple others." Griffin added, "This off season I have been working out with Ben Hannula, who went to Bellarmine and was a great player at The University Of San Diego, while playing a little in the NFL… Im the fastest and strongest I have ever been while working out with him."
Drew is an outstanding football player and one of the most likable kids we have come across. He projects at the FCS level and will be a guy that makes everyone else around him better. We will bring you updates on Griffin and his teammates as the season progresses.