Over the next week we will be posting overviews of the 2014 Oregon and Washington updated rankings by position. All of us at NEI and the Barton Football Academy feel fortunate to be able to work with a majority of the region's top athletes. There's not a perfect ranking system, but we do our best based on all of the criteria listed. The Pacific Northwest is the fastest growing football region in the country and the kids have a lot to be proud of.
**A special thanks to Ryland Spencer and Scott Enyeart for all of their hard work and dedication. They are as good as they come at what they do.
Running Backs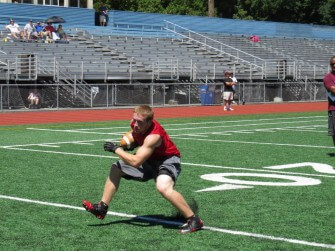 West Albany's Jake Lacoste (5-10 Sr. 195) isn't your prototypical RB, but he is one of the top backs in Oregon history after going for over 3000 yards and 40+ Tds last season. He added offers Portland St, Air Force, and Army after being named Oregon's Gatorade Player of the Year.
Devin Martinez #3 of Southridge and Daniel Sherrell #6 of Clackamas are two of the state's smaller backs, but are both nasty. Martinez was a 1st team all league kid as a sophomore, and Sherrell went for over 2100 yards and 27 Tds last season.
CC's Ryan Nall #2 will be tough for anyone to stop, projecting as an H back at the D1 level, already holding 5 D1 offers including Oregon St. Canby's Dominic Shorter made a big jump from #14 to #7 after an outstanding off season, and West Linn's 2nd team all league RB from a year ago Louie Germain joined the group at #14.
Click here to view the 2014 Oregon RB Rankings
Wide Receivers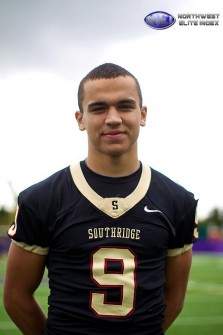 There wasn't a ton of changes, with Arizona commit Jordan Morgan being the clear cut #1, followed by 6-4 Mitch Herbert #2 of returning state champion Sheldon who has been offered by Air Force and Portland St.
Zack Davis of Central Catholic had a very impressive off season, jumping his way up the charts to #5. He will be a go to guy on one of the state's best teams. Jaray Kindell of Lincoln will be a PIL Player of the Year candidate and moved his way up to #6.
#7 Quentin Bates of Reynolds, #8 Jonas Dahl Silverton, and #9 Garrett Hittner of McNary were all standouts on the Barton Camp and Combine Tour and proved they were some of the state's best.
Click here to view the 2014 Oregon WR Rankings
Athletes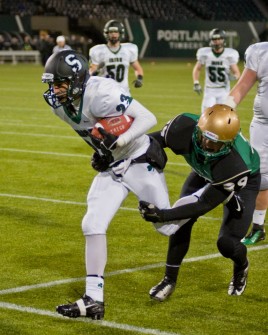 #1 ranked QB/WR Tanner Sanders out of Crescent Valley has committed to Oregon St.. Manu Rasmussen #2 is one of the fastest rising athletes in the NW, and will play the RB position but projects as a slot or corner. The Tigard standout will be the overwhelming favorite for Conference POY.
Yadie Dunmore #3 of Sheldon made a big jump on both sides of the ball, and much like Rasmussen will be a player of the year candidate, projecting at the D1 level.
The state's top corner Aaron Washington of C.Catholic could be one of the state's breakout players offensively, as he is a threat to take the ball to the house whenever its in his hands. Fellow Mt Hood Conference athlete Andre Reasno of David Douglas, scored 15 Tds last season and jumped up the boards all the way to #6.
#7 Trent Werner of Jesuit is a baller but projects on the defensive side of the ball, while Daren Rodrigues #8 could be one of the breakout players state wide for Tigard next season.
Click here to view the 2014 Oregon Athlete Rankings