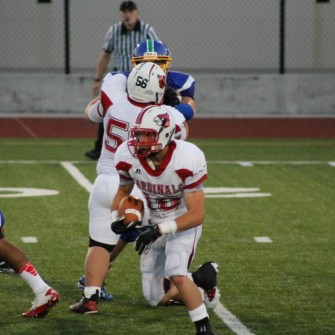 The football team at Tacoma (Wash.) Franklin Pierce HS could be one that makes some noise this fall. With ultra-talented LB Brett Carter returning from an injury that sidelined him for all of his junior season, and a host of other young talent, the Cardinals could surprise folks this year.
A player who will factor into that equation will be Daimoni Delevergne – one of the most versatile athletes in the SPSL.
Delevergne is coming off a junior season in which he netted All-SPSL honorable mention honors on both sides of the ball. Defensively, he was the team leader in tackles (87), while offensively he rushed 46 times for 391 yards and two touchdowns.
Daimoni is a player who is an incredibly intriguing prospect. He plays LB for the Cardinals but is used in a "rover" type role, and projects as more of a safety at the next level – think something Troy Polamalu-esque.
According to Delevergne, he and his Franklin Pierce teammates have a goal of a 2A state title this fall, and have been hard at work taking steps to chase that goal.
"It starts with hard work at practice, and performance in games," Delevergne tells NEI. "Our offseason has been a killer; 5-7pm workouts and then we finish off with 7on7 going 1st defense vs. 2nd offense, then switch and go 1st O vs. 2nd D.'
One thing Delevergne is doing on a personal level to help his team reach its goals is take a more active leadership role.
"Leadership is a focus for our team, and I feel like our seniors will step up in those roles and do great things on and off the football field," he says. "I recently went to a leadership camp for my school and it taught me so many different ways to show leadership and how to lead by example and lead with words. I have been working out with my teammates trying to make our bond tighter, and we are giving positive re-enforcement to help our team keep a positive attitude."
As mentioned, Daimoni is an incredibly versatile athlete who is a playmaker on both sides of the ball, which is always an attractive attribute to colleges. Delevergne was a recent participant at the RDAF Northwest College Showcase and had a solid showing. The showcase setting was a new experience for him, but also one that he took a lot away from.
"I have never really did the footwork type of drills but I caught on and excelled at it, I felt," he says. "I believe that coming out there to perform is a good experience for everyone, college coaches want to know who is coming up and ready enough to play at the next level. I believe getting to meet the college coaches and hear what they had to say helped me learn some things I can take home and work on."
The 5-foot-9, 185-pounder is a 2.9 student, and is an executive officer in Franklin Pierce's ASB. He is also a member of the Cardinal's track team.
He is definitely a player to keep an eye on this fall, and one we will definitely keep you updated on.