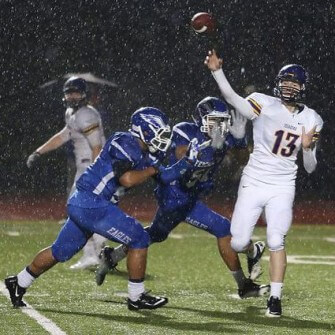 A kid quickly jumping up the charts is Issaquah (Wash.) QB Jack Neary (6-3 200 Sr.). He has had an impressive offseason thus far and will come back as the leader of a very promising Eagles squad.
Neary is surrounded by a group of talented athletes who make up one of the most respected programs in Washington. Since 2008 Issaquah has gone 32-15, playing in the toughest conference (KingCo) state wide. Jack missed a chunk of time early in his high school career with an injury as he says, "I had suffered from a bulging disc in my back, which kept me from playing my entire sophomore season in 2011… I finally had surgery and was cleared to play August 1st of last year."
After his return, Neary took over the starting QB duties the 4th game of last season and did well. He was 68 of 117 passing for 902 passing yards and 8 Tds, but its Jack's upside on and off the field that makes him so appealing. He is focused in the classroom, sporting a 3.8 GPA with AP classes, and visiting some Ivy league schools this summer (Princeton, Dartmouth, Yale). Neary will keep all options open but high-end academic institutions are a good fit for the scholar-athlete.
Referencing his return from injury Jack says, "I was injured from May of my freshman year until August of my junior year… I was determined to earn the starting role, and worked my way up from being the third string quarterback to the starter by the fourth game of the season." Now healthy Neary has helped his team to a big 7 on 7 tourney championship at UW, along with a second place finish among 14 teams last week at the West Seattle 7 on 7 passing tourney.
Head coach Chris Bennett and his staff do a great job and they have a lot of talent returning. Jack Gellatly is one of the top backs in the Northwest and single-handily opens up the passing game for Neary and the Eagles. Jack says, "We have a handful of very talented receivers on top of Jack (Gellatly) and I am lucky to have the line that I do."
Shay Dingfelder (6-1 290 Sr. OL/DL) will be a three year all league kid and one of the better lineman in Washington. Jacob Peterson returns after a 1st team all league season and a host of other kids will contribute.
WR Tommy Nelson (6-1 180 Sr. WR) is another kid whose stock is rising quickly and Neary feels good about the group as a whole, "I am looking forward to playing my senior year because I will have been able to fully recover from my back injury… I have been working out 6 days a week, focusing on strength, speed, and footwork, and I am excited to begin the 2013 season physically prepared."
Neary projects as a collegiate level QB that brings a lot to the table off the field. He will be an athlete to keep an eye on, as he has all of the tools in place to have a successful season. We wish Issaquah and Jack continued success and will bring you updates as they happen.