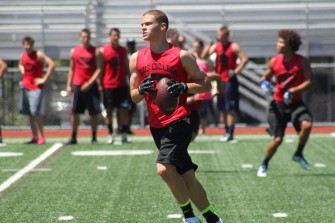 We are always sensitive about reporting on athletes that are still really young, but both of these kids project as two of the top athletes in the country for the 2017 class. Even more impressive is that they are outstanding character kids and legit role models amongst their peers.
Many may be familiar with the last name, as West Linn, Oregon freshman standout Elijah Molden is the son of former All-Pro and 9 year NFL vet Alex Molden. People may remember him as an Oregon Duck on the '95 Rose Bowl team, before being selected as the 11th pick in the first round of the NFL draft by the New Orleans Saints.
Elijah has learned a great deal from his father, and exploits his talents on the field and in the classroom with a 4.0 GPA. His dominance was apparent during youth ball, as his numbers were ridiculous, scoring 49 TD's during his 6th grade season and 27 this past year.
He is the very rare exception to the rule, projecting as a starter on both sides of the ball as a freshman. Referencing the up coming season he says, "The goal is to start and maybe take a couple pick 6's to the house… As a team we would like to win a couple playoff games and make a run."
Elijah's brother Isaiah will be a returning starter for the Lions on the offensive line, as he had an impressive RDAF Showcase event last month. As of right now Elijah will start on defense and contribute on offense when needed. Elijah says, "I just want to help my team however I can win ball games." Referencing the role his parents have played he says, "They make sure I stay humble and remain focused in the classroom… On the field my dad has stressed the importance of keeping up with the speed of the game, while maintaining quickness and the ability to change direction."
West Linn is a potential top 10 team and Molden will be able to make an immediate impact this season. He was the Oregon Underclassmen MVP at the premier event of the year, in the RDAF Showcase last month. We can't say enough good things about the youngster and look forward to following his career moving forward.
Earlier in the year we brought you the story of an 8th grader out of Washington that was just an incredibly special athlete. Salvon Ahmed of Juanita was a man amongst boys playing youth ball last season, as his championship game video is indicative of the talent the kid possesses.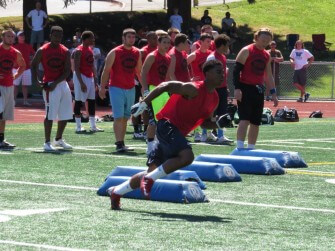 Ahmed went for 400+ yards and 7 TD's against Bothell in last year's 8th grade title game, putting together a highlight video that was something out of an NFL Films presentation. Much like Molden he showed up at last months Showcase event and dominated the competition among underclassmen, taking home the MVP award. Speaking to the event he says, "The Showcase was great due to the competition, I feel that it made me a better player and helped prepare me for the upcoming season."
We are big advocates of head coach Shaun Tarantola and his crew, as they bring back what should be one of the top teams state wide. Ahmed will get a chance to impress right away as he will be a player for the Rebels this season. The kids out of Kirkland are young and loaded on both sides of the ball, and Salvon is the type of game breaker that can decide championships.
Referencing the upcoming season he says, "We want to be as close to perfect as we can and get a ring this year, that's the ultimate goal.. Personally I want to be able to contribute to the team early on and put points on the board." Salvon left every D1 school shaking there head when they saw him at last month's premier event. One Pac 12 school said it best after watching him do agility drills saying, "You gotta be kidding me."
Ahmed is an equally talented basketball player, playing on the state's top AAU team. His abilities on the football field equate to that of a Budda Baker type athlete. He will be one of the more recruited kids in the country over his high school career and much like Molden is just a really good kid. We will bring you updates as they happen.
Click here for Elijah Molden Highlights