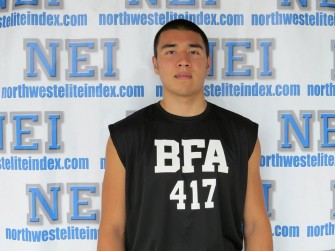 The kids out of 3A Horizon Christian are a group that we have gotten to know well over the last few seasons, as they featured multiple D1 athletes on last year's roster.
All-everything Northwest standout Wyatt Houston is now on full scholarship at one of the fastest rising D1 programs in America in Utah St. He was Oregon's #1 ranked TE last season, and is now competing for the starting job as a true freshman. Houston played QB and LB for the Hawks in 2012, while teammate and best friend Zack Selland was one of the state's top receivers. Selland is now at Big Sky North Dakota, with Horizon graduating a host of other talent across the board as well.
That said HC has a couple kids who we think very highly of, ranking among the state's top athletes for 2014. Isaiah Hall (6-4 235 Sr. TE/DE) has been a fixture at our elite events and on the Barton Camp and Combine Tour over the last few seasons. He's got a D1 body and has quickly blossomed as a player. Hall is only a few years deep with regards to football experience, making his upside that much more intriguing.
He says, "Parker Belan and Colton Cosner have a great attitude and work ethic, and Sandis Shay will do a good job as a young quarterback…. Our goal is to take everything one game at a time and win our first league championship." He continued, "Personally I want to earn 1st team all league honors on both sides of the ball, which is a lofty goal but I have been working hard."
Belan (6-3 205 Sr. ATH) is another athlete that did well on the camp circuit, possessing outstanding overall athleticism and a bright future on the grid iron if that's what he chooses to pursue. Belan is a talented hooper that hasn't played much football, but has a host of intangibles that make his raw ability very appealing. Parker could play multiple positions in 2013.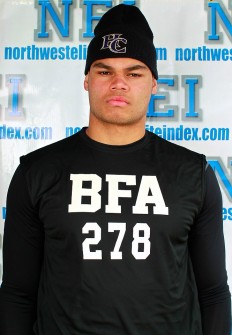 Cosner and lineman Aidan Kragero are two other kids that will play a key role for this years Hawks team. They went (22-9) over the last three seasons, but this year presents some obvious challenges. Houston and Selland were phenomenal leaders and most likely the top football players to ever come out of the school. Hall and Belan have the skill set to dominate, and will do there best to immolate the standards set by the 2013 kids.
More important then football, all of the athletes mentioned are the type of kids you want your daughter to date. They define all that is good about our younger generation and we look forward to bringing you updates as the season draws near.