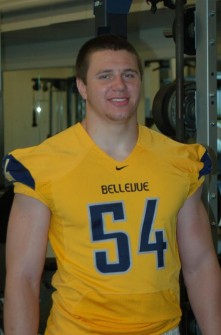 Another Northwest standout has made his college decision, as Bellevue (Wash.) defensive end Shane Bowman gave a verbal commitment to attend Oregon State earlier Saturday.
The 6-foot-4, 220-pound Bowman is the No. 2 ranked defensive linemen in the state of Washington and one of the many FBS-level players playing for the Wolverines this fall.
The offer from OSU was the most recent for Bowman, who also held offers from the likes of Nevada, UNLV, Montana and Montana State, to name a few. But it was ultimately the Beavers that earned Bowman's pledge.
Bowman made the commitment over the phone to Beavers head coach Mike Riley. "I called Coach Riley and told him I felt that OSU was the perfect fit," Bowman told Northwest Elite Index.
With the recruiting process wrapped up for Bowman, he can now focus on the senior season in front of him, where he will help lead Bellevue in its quest for a 6th straight state championship.
Bowman is the second known commitment for the Wolverines, joining fellow defensive lineman Marcus Griffin, who is also headed to the Pac-12 where he is committed to attend Washington State.