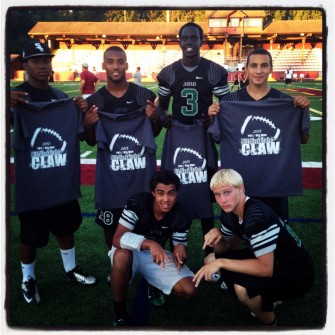 Slowly but surely the football program at Puyallup (Wash.) Emerald Ridge has been building the right way, and the Jaguars could be poised for a strong season this fall.
We've told you about standouts such as wide reciever Brett Rankin and do-everything athlete Ashanti Kindle. But there is another player the Jaguars will look to, and could be the key piece of the puzzle for them this year, in QB Goy Mal.
Mal is a 6-foot-5, 190-pounder who served in a backup capacity last season as a junior, and will compete this season for the Jags' starting QB job along with Ryan Knowlton and Griffin Meyers.
Mal is a player we have gotten to see up close this offseason, as he attended one of the Barton Football Academy combines as well as the RDAF Showcase. He is a big-framed kid, with a very live arm, and can really throw a nice ball.
"My offseason from a personal standpoint has been focused on winning the quarterback battle," Mal told NEI.
But the chunck of Mal's efforts have been devoted towards Emerald Ridge's team goal of a playoff berth. "Our team goal this season is to make playoffs for the first time in school history," Mal says. "We were a game short of making it last year and our whole team remembers that pain. We took it out in weight room this offseason and it are hoping it pays off on the field this fall."
Mal has been hard at work trying to do his part, which has focused a lot on his growth as a quarterback. "Our offense this year will require reading defenses, so for me that means watching a lot of film and knowing what the defense is doing," he says. "Our coaches say you become a football player when you know even what the position next to you is doing. Your awareness becomes better and you understand what's going on, and when you know what's happening it produces better results."
The Jaguars, as a unit, are starting to see the fruits of their labor, winning a recent 7-on-7 tournament, and are hoping that success carries on into the fall.
It's evident that both Mal and the squad at Emerald Ridge have been working hard this offseason, and we wish them luck as they chase their first-ever playoff berth this fall.