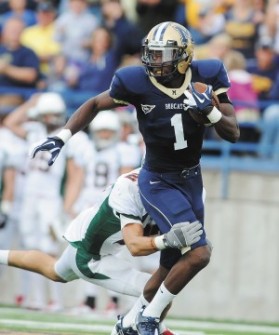 The addition of Elvis Akpla to the Barton Football Academy as Head Oregon WR coach is big on many different levels.
Head BFA WR coach Mike Bush is as good as they come up in Washington and Akpla only adds to the arsenal. Other coaches include the likes of the Nation's #1 projected college TE in Austin Seferian-Jenkins, and UW All-Pac 12 Wide out Kasen Williams.
Elvis was originally one of Oregon's top HS athletes out of Lincoln (Portland), accepting a track and field scholarship to the University of Oregon where he would also play football. He ended up transferring to Montana State and setting multiple school records, while earning 1st team All-Big Sky honors in 2011. His 63 catches for 1145 yards, and 11 TDs put him in a position to be recognized by multiple NFL organizations.
Montana State WR coach Brian Von Bergen says, "Elvis is a special football player, he finally lost the reputation of being just a track guy…. He doesn't miss practices and is a student of the game, and it didn't take him long to master the position with his intelligence."
He recently spent time with the Philadelphia Eagles and also brings a lot to the table off the field. Akpla graduated with a degree in Cellular Biology and Neuroscience with a minor in French. His ability to instruct along with his passion for the game are very apparent, and all of us at BFA feel fortunate to have landed such a high character coach.
Referencing his new position at the Academy he says, "I'm extremely excited to give back to the program [Barton Football] that helped me get to the professional level and launch my college career. I look forward to helping the athletes as I was in their shoes not long ago."