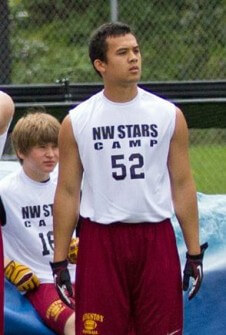 The Kitsap Peninsula features one of the top returning tailbacks in the state in Kingston's Nick Tabanera. After a solid junior, he's hoping for an even better senior campaign that helps lead his team to a state title.
"It's been pretty busy this summer for me," Tabanera told Northwest Elite Index recently. "I had a job, so I didn't get out to many camps, but one I did hit was the Barton Camp in Bellevue (at Interlake High School). "
As a junior last year, Tabanera totaled over 1,200 yards and 16 scores while leading his team to a 6-5 record, but they lost to Sumner in the first round of the playoffs.
"I think we all were disappointed in how we did last year and we've all been focused on what we need to do to go deeper in the playoffs and also to get a championship," Tabanera said. "We've been working hard all summer long and I think we're going to do some big things."
On the recruiting front, Tabanera has yet to hear from any schools, but he's hopeful an even better season, this one that features his ability to not only run the ball but also to play linebacker, will help him get noticed.
"This year I want to play linebacker and my coaches know I want to do that," Tabanera said. "I want to help my team any way that I can and honestly I just love to play the game."
Tabanera will be a three-year starter for the Buccaneers and was also voted a team captain. At 5'9″ and weighing in at 170 pounds, he's got the size and agility necessary to be a real playmaker at the next level, depending on the scheme.