Over the next week we will be posting overviews of the 2014 Oregon and Washington updated rankings by position. All of us at NEI and the Barton Football Academy feel fortunate to be able to work with a majority of the region's top athletes. There's not a perfect ranking system, but we do our best based on all of the criteria listed. The Pacific Northwest is the fastest growing football region in the country and the kids have a lot to be proud of.
**A special thanks to Ryland Spencer and Scott Enyeart for all of their hard work and dedication. They are as good as they come at what they do.
Linebackers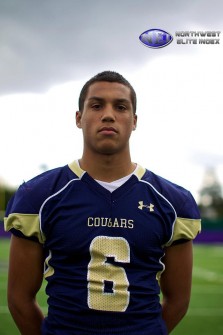 The Oregon's 2014 LB's could go down as the best group to ever represent the state. When all is said and done there could be double-digit D1 backers come signing day, which is unheard of for any position.
Joey Alfieri #1 (Jesuit) will go down as one of the best football players to ever come out of Oregon. He has a potential All-American collegiate and professional career ahead, but first he will try to get the Crusaders past the semi's where they have been bounced the last 4 years in a row.
Ryan Nall #2 (Central Catholic) has proven freaky time and time again and holds 5 D1 offers, including Oregon State. Ryan is good enough to have half the Pac 12 and then some. Sam Bodine #3 (Canby) is a Player of the Year candidate, after a 1st team all-league junior season. He holds a Portland State offer and sits on the bubble with a host of schools.
Nick Underwood #4 (Lake Oswego) will compete with Bodine for POY, as he is just incredibly good and moving up D1 boards already holding 2 offers. AJ Hotchkins #4 (Tigard) is maybe the hardest hitter to ever come out of the Northwest, playing D end but projecting as a backer.
Perry Groves #6 (McNary) went for over 100 tackles, has legit size, and is the brother of former Oregon Player of the Year JD Groves who went to UCLA. He projects at the D1 level, but does not hold an offer.
Chase Marshall #7 (Lakeridge) has a stock that is rising quickly, after a very successful off season. Multiple Ivy league schools like him as he will be a three year starter. Scott Skurdahl #2 (Sherwood) is another kid that is just really good, and will be instrumental in leading the 5a state champs D.
Jacob Bucher #9 (Crescent Valley) will be a three year starter, and brings size (6-3 240) and experience to the table. Jake Pruit #10 (Southridge) is a D1 Lacrosse kid but could play a high level of collegiate football if he wanted to.
Mason Montgomery #11 Ashland returns after earning Co Conference Midwestern POY honors last season. He will be a 4 year all league starter, which is rare.
Mike Varadi #12 (Southridge) will be a three year starter and is your ideal Ivy league type candidate, while Peyton Dole #14 (Eagle Point) had an outstanding off season and has legit potential due to his size and overall athleticism.
There are bunch of other athletes that jumped the rankings and are for real. The class is literally 20 deep, and it should be one of the more exciting seasons at the position.
Click here to view 2014 LB Rankings
Cornerbacks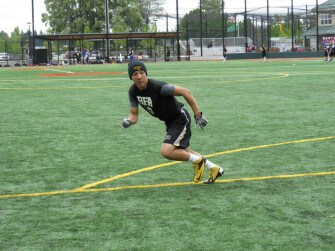 Aaron Washington #1 (Central Catholic) grew up in Carolina and plays with the demeanor necessary to compete at the highest level. He is fearless on his island. Manu Rasmussen's #2 (Tigard) stock has risen as much as anybody this off season, as he is a conference player of the year candidate on both sides of the ball and projects at the D1 level.
Dunmore #3 (Sheldon) has D1 genes with his brother in the secondary at Oregon. The kids a player. Maurice McSwain #4 (Aloha) returns after an impressive junior campaign, and James Schell- Buchanan #4 (Roosevelt) may have the had the performance of the year on the Barton Camp and Combine Tour. He has put himself in the D1 discussion.
Maleke Nathman #6 (Southridge) will be a three year starter for the Skyhawks as he has done well over the off season, while Taylor Travess #7 (Springfield) returns after leading the state in INT's and earning Co Conference Player of the Year honors.
Hutu Spencer #8 (Reynolds) returns from injury after missing last year and should be one of the better players in the Mt Hood.
Click here to view 2014 CB rankings.
Safeties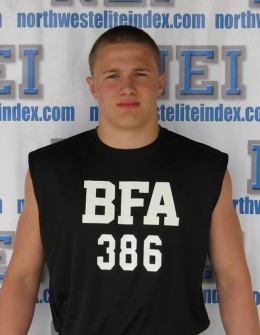 The safeties in Oregon are legit and extremely comparable in talent. Mitch Herbert #1 (Sheldon) has multiple offers and could play on either side of the ball, although he projects as more of a WR at 6-4. Trent Werner #2 (Jesuit) will be a three year starter and has the unique ability to consistently be at the right place.
Jordan Horak #3 (Lake Oswego) , Cam Schmitz #3 (West Linn), and Zach Farnes #5 (Clackamas) give the TRL some real talent at the position. Horak has started in back to back state title games and comes from an athletic family as the son of the AD. Schmitz was injured in 2012, but broke out this off season MVP ing multiple camps and combines. Farnes returns after finishing as one of Oregon's leaders in tackles.
Logan Sackley #5 (Southridge) will be a Metro League Player of the Year candidate, after a junior year that he exceled at backer. Sackley is extremely fast and physical off the edge, but will most likely transition to safety.
Keegan Lawrence #7 (Sherwood) comes from a football family and is a player, and Chandler Schoonmaker #8 (Tualatin) will be one of the top defensive players in the Pacific Conference. You can also welcome Cody Walker #9 (Roseburg) to the party after he earned 2nd team all league honors in 2012.
Click here to view 2014 safety rankings.