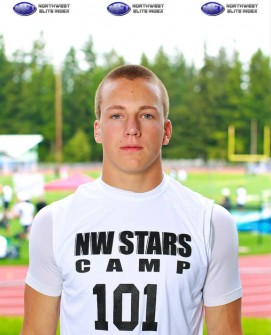 The football team at Yakima (Wash.) West Valley has one clearcut goal in mind this season – to make the playoffs. Coming off last season's 5-5 record, and no true playoff experience on the roster, the Rams know the challenge they face. One player who will West Valley will rely if they hope to make a playoff push will be WR/CB Braydon Shields.
"As a team we are dead set on making change. We've struggled in recent years and don't have any playoff experience," Shields tells NEI. "We are going to try to change that this year."
Shields was a key player for the Rams last fall – catching 26 passes for 400 yards and 5 TD's in WV's run-heavy offense while also playing CB, and now heading into his senior season, he has been selected as a team captain and will be a factor on both sides of the ball.
The 5-foot-11, 175-pounder could be in store for a breakout year as West Valley will see its offense evolve this year into to one that runs a more up-tempo style of attack.
As noted, Shields also plays defense, and excels on that side of the ball as well. It's that versatility that saw him land at the No. 17 spot in our athlete rankings for the class of 2014.
Braydon also excels in track and field, earning 2nd Team All-League honors as a long jumper and triple jumper. We saw him several times on the BFA Camp and Combine tour, and his overall athleticism is impossible to ignore.
He's got big goals this fall, in addition to his top priority of helping lead West Valley to the playoffs, he's got some individual achievements he wants to try and accomplish. "Personally, I want to be 1st team all-league on both sides of the ball and would love to earn a CWAC MVP award," he says. "On top of that, I want to be a good leader and set the example for players who come through our program. I'm doing everything I can now to prepare for the Friday nights this fall."
Shields isn't the only player who will help lead West Valley on its playoff quest in 2013. Starting RB and LB Mark Bradley will be a player the Rams count heavily on. Another pair of two-way standouts will be Ethan Williams at WR and safety, as well as Jordan Cluff who plays RB and CB. Trace Cornelius is also back at the CB spot and could see an increased role on offense this fall. The Rams will look to Shane Lemieux to be the anchor of the offensive line from his LT spot.
One thing most playoff-bound teams must have is unity, and that's an area Shields says he's seen his team grown in significantly. "What I've noticed about the team this year is how well we get along and how well we all work together," he says.
Braydon is a player with the ability to play at the collegiate level. He has already been hearing from small colleges such as the University of Puget Sound, and with a big senior season, he could his recruitment pick up even more steam.
We wish Braydon and all the West Valley Rams luck this season as they fight to earn a trip to the state playoffs!