Over the next week we will be posting overviews of the 2014 Oregon and Washington updated rankings by position. All of us at NEI and the Barton Football Academy feel fortunate to be able to work with a majority of the region's top athletes. There's not a perfect ranking system, but we do our best based on all of the criteria listed. The Pacific Northwest is the fastest growing football region in the country and the kids have a lot to be proud of.
**A special thanks to Ryland Spencer and Scott Enyeart for all of their hard work and dedication. They are as good as they come at what they do.
Linebackers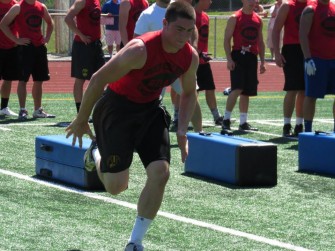 Devante Downs #1 (Mountlake Terrace) will go down as one of the most talented two way threats in WA history. He will be sidelined for the 2013 season with an unfortunate knee injury. Devante has double digit offers, most recently from Nebraska, and he could he play on either side of the ball at the highest level.
Conner Baumann #2 (Newport) is one of the fastest rising recruits in the region, having a phenomenal off season and holding 4 D1 offers. Jack Flor #3 (O'Dea) and Gianni Carbone #3 (Skyview) both project at the D1 level. Flor's upside is off the charts as he had a very impressive camp season, MVP'ing multiple events. Jack tests through the roof and is young for the grade. Carbone plays with his hair on fire and brings it every play.
Alek Kacmarcik #5 (Woodinville) has jumped up the rankings board, winning the NIKE NFTC -Eugene LB award and also grabbing an Eastern Washington offer. Josh Wright #6 (Skyline) is the other kid right on the D1 bubble as he is just a player. Wright plays DE for his team, but projects as a backer. His combination of speed and power off the edge is extremely unique.
Alex Weber #7 (Chiawana) has a stock that has jumped up as much as anybody, as we consistently hear about colleges who like him on and off the field. Nate Lewis #8 (Arlington) is an NEI favorite and a kid that has somewhat gone under the radar. Look for him to have a big season.
Michael Digenova #9 (Camas) was a 1st team all league kid last season, as he is an outstanding student and overall athlete. He could play at the D1 level. Teammate Brad Hansen #15 (Camas) could climb this list quick, after transferring from Mt View and earning 1st team all league honors last season.
Two other kids who have jumped up the rankings quickly are Mac McLachlan #10 (Edmonds-Woodway) and Stuart Gillin #11 (Walla Walla). McLachlan will be a three year 1st team all league kid and Gillin is big, fast, and was a breakout performer at the premier event of the year in the RDAF Showcase.
Washington has a host of other talented backers that round out the group and we are excited for these individuals moving forward.
Click here to view 2014 LB Rankings
Defensive Backs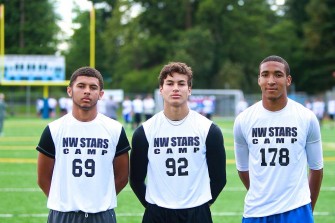 Budda Baker #1 (Bellevue) will go down as one of the greatest players to ever come out of the Northwest. He will be a Collegiate All-American and could very well spend 10+ years in the NFL.
Drew Lewis #2 (Eastlake) can play on either side of the ball and has committed to UW. Keenan Curran #3 (Federal Way) is sitting with double digit D1 offers and is a kid that you can build a team around due to his versatility and leadership.
Timmy Haehl #4 (Bellevue) has great film, and is a very impressive student and overall athlete. He will play QB for the Wolverines as he is a legit D1 athlete. Cole Karstetter #5 (Ferris) has D1 genes and possesses size, with Mitch Fettig #6 (Olympia) being the next kid on the board without a D1 offer who projects at that level. Mitch is a phenomenal athlete and was an MVP on our NEI Vegas All Star team.
Nate Beasley #7 (Camas) and Zach Eagle #10 (Camas) were Co Offensive Players of the Year in GSHL and both could play on either side of the ball. Beasley was a 2nd team all league DB as a Sophomore and Eagle is one of the better overall athletes in Washington. Teammate Jorden Payne #15 (Camas) is a kid we really like, as he had a monster off season after earning 2nd team all league honors in 2012.
Justus Ross #8 (O'Dea) was one of the most impressive athletes on our Vegas All Star squad, as he could very well play at the D1 level. At 6-4 Melvin Walser #4 (Mt Vernon) was one of the state' s leading tacklers from his safety position, with Caleb Lyons #11 (Lakes) ,Deion Stell #16 (Marysville-Pilchuk) , and Gabe Gleizes #17 (Tumwater) all having impressive off seasons.
Lyons is just a player and was one of the state leaders in INT's, with Stell projecting as a kid that could have a big season on both sides of the ball. Gleizes is a lock down corner and one of the better receivers in the region.
Washington is about 25 deep at the position and it should be one of the better years in recent memory. Check out all of the talent at the position.
Click here to view 2014 DB Rankings