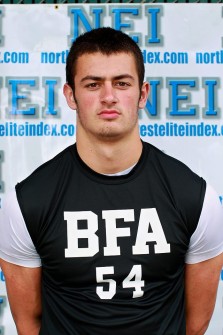 Gig Harbor (Wash.) wideout Reese Carlson saw his stock rise after a strong junior campaign, so much so that he earned an offer from the University of Montana this offseason.
This week, the 6-foot-4, 215-pounder decided to accept the scholarship offer, and verbally committed to the Grizzlies.
"The past success at Montana is what drew me initially. They are almost always competing for the Big Sky championship. Once I walked around the campus and saw the football facilities I was even more impressed," Carlson told NEI following his commitment.
"I've been to other schools and their camps, and didn't quite fall in love like I did at Montana. I felt like Montana was where the Lord wanted me to be and my family thought so too," he added.
Carlson is a gym rat – the type of kid that just loves to be around sports and loves to be putting in work. So naturally, that aspect of the atmosphere at Montana factored greatly into his decision. "Montana feels like they always have to be the hardest working team in the weight room year-round, and that's something I've tried to do myself – to is succeed in the offseason when others think they can relax and take a day off," he says.
Carlson caught 32 passes for 700 yards and 7 TD's last season, earning 2nd team all-league honors along the way.
Now with recruiting in his rearview mirror, Carlson can focus on his upcoming senior season at Gig Harbor. "I feel so blessed to be in the position I'm in right now. It feels really good to be done with the recruiting process this early. I only have to worry about winning games this year and enjoying it all with my teammates. I feel like we have a special team this year and can't wait for O'dea."