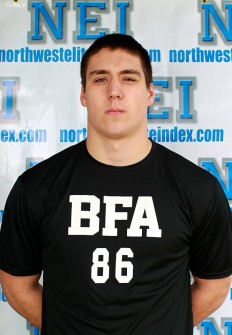 One of the top linebackers on the West Coast for the class of 2014, Ryan Nall (6-3 235 Sr. LB/RB) of Central Catholic, made his intentions known Friday committing to Oregon State.
The talented two-way threat projects on the defensive side of the ball, but is also one of the best running backs in Oregon and could very well play an H back type position at the collegiate level. Nall is a big pick up for OSU, as he is a kid that could very well still see half the Pac-12 or more come in on him.
Ryan is a freak athlete, and a player that could go down as one of the all-time steals if his ridiculous upside plays out. His combination of size, speed and power are rare as indicated by his MVP like performances this off season. Referencing how it happened Ryan says, "So after they offered I knew that OSU was the place I wanted to go, and I set up a day to go have a meeting with Coach Riley." He continued, " I got a tour, watched their practice, and really felt at home so when I had my meeting I was ready and we made it official."
Nall had 622 all purpose yards, averaging 8.7 yards per carry, with 6 total Td's before losing in a quarterfinal classic to Tigard. The Rams will once again be considered state title contenders with talent up and down the board. We wish Ryan nothing but continued success, as he is a class kid and someone that we will be following for years to come.
Click here for Ryan Nall Highlights