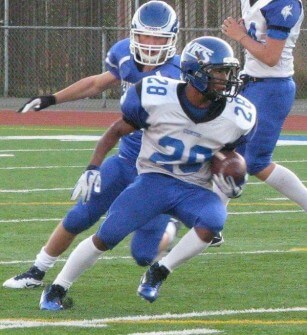 One of the breakout performers at the RDAF Showcase Event last month was Curtis HS running back Hasani Childs. He missed last football season due to injury, but didn't look like he had missed a step at the premier event of the year.
Childs is smaller back that runs with power, as he should be one of the featured athletes among a talented Curtis group that has kids returning on the line and at the skill positions. Referencing the season he says, "We want to win the SPSL and be the most physical team in the state, making it further in the playoffs then we did last season."
1st team all-league lineman Odessa Mendoza (Conference D-lineman of the Year 2012) and Darius Riddley return, along with top LB Calvin McLain on the defensive side of the ball. Offensively, 1st team standout WR Carter Mckay is back and ranks as one of the top skill kids in Washington.
Hasani has had a tough run with injuries during his high school career, but has taken it in stride. Speaking to how it started he says, "As a freshman I attempted to go tackle Rahmel Dockery as part of our Varsity Scout kickoff team.. In the process I ran into a linebacker that outweighed me by 100 pounds and ended up with a concussion."
He added, "There were symptoms that I had never experienced before which led me to be sidelined for 3-4 months.. During a successful sophomore season I noticed I was seeing spots, and ended up having to undergo three eye surgeries. Until this day I have surgical band around my eye."
Childs brings a lot to the table on and off the field and should be one of the better backs in the conference this season. He will be in a running back duel with Mitchell Hersey (5-8 170 Sr.) and Donnell Diego (5-9 190 So.), who could be the next special back to come out of the tradition-rich Curtis program. Defensive lineman of the year Mendoza says, "Hasani is a good running back and is the fastest kid we have coming out of the backfield. We are happy to have him back this year."
In closing Childs says, "I am very determined to do well in both football and track. When I put my mind to it I believe I can accomplish anything."