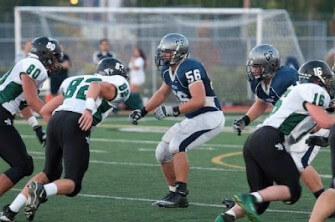 Northwest Elite Index got a chance to catch up with Glacier Peak head coach Rory Rosenbach recently and he gave us a quick preview of some of his top players and an idea of what to expect from the Grizzlies this fall.
Last year, the Grizzlies posted a 9-2 record, but lost in the first round of the State 3A playoffs to Mount Si. GP loses a lot of talent including QB Chris Beccera and WR/S Sean Elledge and OL/DL Michael Nulle, all of whom were captains.
While Rosenbach admitted that they would be tough to replace, he thinks a strong offensive and defensive line will ease the transition as well as some senior leaders who are already stepping up.
"We're going to have a bit of a battle at quarterback during camp and as we head into the season," Rosenbach told NEI. "We have a senior, Branson Corwin, he's been here and knows the system really well. He's about 5'8, 155, so he isn't the biggest guy, but in our system you don't have to be huge."
Rosenbach continues, "We also have a sophomore by the name of Andrew McCoy and we think he's got a lot of potential. He's about 6'2, 200 and he's probably more of a dual-threat type of a guy, but like I said, both of them could run our system and run it well, so we'll see how that all plays out."
The running back position is a bit of a concern since the Grizzlies lost Michael Palmer, who will be playing college football this fall, after he rushed for nearly 900 yards and 11 touchdowns.
"Those are big shoes to fill, but I think Josh Pinca, who will be a senior this fall, can do a pretty good job," Rosenbach noted. "He's about 5'10 and 185 pounds. He's a good receiver and I think he's a pretty instinctual runner, so we'll see how he does, but it's definitely something we're going to have to figure out during camp."
At receiver, Glacier Peak features probably their best playmaker, in Trey Chambers as well as some other role players who they will be counting on.
"Trey is a solid player and he's really been doing an outstanding job in our offseason program," Rosenbach said. "He's got all of the athleticism and skill you want in a kid. He's able to get off the press and he's got enough size (6'0, 165) to go up and get it. He's the son of Richie Chambers who played for the Huskies back in the 80s and his uncle is Craig Chambers who played there a few years ago, so he comes from a very talented family.
"In addition to Trey, we also have Austin Hines (5'10, 170), a senior, who is a solid slot receiver and we moved Leon Elliot (5'10, 170) from quarterback and we're excited what he can do. He's also a senior, so we're going to have a senior-laden receiving corps."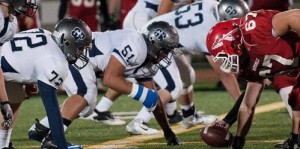 Along the offensive line, the Grizzlies feature their top two recruitable athletes in senior Nick Hensley (6-1, 250) and junior Mosese Fifita (6-0, 275).
"Both of those guys are great leaders and we'll count on them to play both ways for us," Rosenbach said. "Mosese, if he were just a couple of inches taller, I think he'd have a lot more buzz about him. He's a standout player and a great kid too and Hensley is a real leader and he loves to get after guys.
"The other guy we have is Neil Druliner. He's been a two-year starter for us on defense and offensively, he will really help us with his abilities, but also his leadership skills."
On the defensive side, it all starts up front for the Grizzlies and they can go six-deep.
"Mosese will be on the nose and that's where I think, ultimately, he's the best fit because he's so powerful and he's really hard to move off the line and Druliner will be at the three or even the five-tech spot for us. He'll be a three-year starter for us and he's one of the best in our league."
The linebackers feature a lot of youth, but Rosenbach said what they might lack in experience, they more than make up for with their athleticism.
"Zach Petersen (6′, 190) is our leader there and he'll play in the middle," Rosenbach said. "Right now, the rest of our guys are too young to talk about and we have four of them, so they'll sort themselves out this fall."
Finally, in the secondary, Chambers is the standout, but he's joined by at least one other stellar performer.
"Chambers will be a three-year starter for us this year and I think he's probably better on the defensive side of the ball," Rosenbach noted. "Kaianoa Wong (5'8″, 160) isn't the biggest guy, but man can that kid play. He's our best cover-guy and he's a really great tackler, probably our best tackler, especially for his size."
Glacier Peak opens up the season on September 6th with a game at Lake Stevens before returning home for their annual grudge match vs. Snohomish the following week.