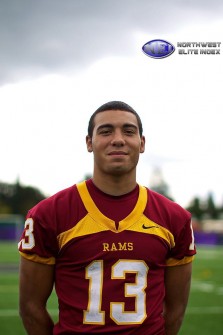 An athlete we have gotten to know well over the last few seasons, Aidan Wilder (6-0 190 Sr. QB) of Central Catholic, received his 1st D1 offer from the Portland State University on Saturday.
Wilder comes in ranked as our #1 QB in the state of Oregon for the class of 2014, and will be in his 4th year as the starter for the Rams. Aidan was the quarterback on our NEI Vegas All Star team and he has been training with Taylor Barton honing his skills.
Referencing the offer Aidan says, "Having a program that believes in me as a quarterback is a blessing. I've been waiting a long time for this to come, and now that it has it just motivates me to get better."
Aidan accounted for 27 TD's (19 passing, 8 rushing) while throwing for 2,062 yards on 56.2% passing. He is extremely versatile and one of the more lethal dual-threat QB's in the west rushing for 517 yards in 2012.
Central is as talented as any team state-wide, but they will need Wilder's senior leadership this season to get them over the hump and past the semi's. It's been 30 years since any team from the Mt Hood conference has played in a state championship (Gresham 1983) and it will take a special group to change that.
Adding to his thoughts on the PSU offer Aidan says, "At this point I'm going to keep all my options open, but after hanging out at the PSU campus and watching their scrimmage today my interest has gone up tremendously."
Coach Burton and company have done a phenomenal job as of late keeping the top in-state talent at home as Wilder added, "I couldn't help but hug Coach Burton and Coach Barnum. It's just a blessing."