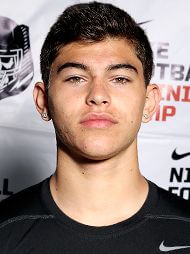 He can play multiple spots on the field, he gets it done in the classroom, and he knows what he wants to get out of playing the game of football. Simply put, Tacoma (Wash.) Fife DB Keanu Songcuan is the total package.
Athletically, Songcuan is incredibly gifted, with speed being one of the class of 2014 prospect's biggest assets, running reported times of 4.63 seconds in the 40-yard dash, and 3.94 seconds in the 10-yard shuttle.
In 2012, Songcuan played linebacker for the Trojans, and he played it well, earning all-league honors in SPSL 2A. This fall, Songcuan will move from his linebacker spot back to the safety position, and is more than ready to be used in this role while also finding inspiration from one of the all-time greats.
"The player I like to pattern myself after is Ronnie Lott. He was a DB for 49ers. He was a small 185lb DB, but he still brought the wood to people that were bigger then him no matter what," Songcuan tells NEI. "He had no fear and played with a different mentality while he was on the field."
While the 6-foot-2, 185-pound Songcuan will never be considered "a small DB", he brings that same ferocity to the field that Lott did.
He also brings that same level of aggressiveness when he applies himself off the field, including carrying a 3.2 GPA.
"I am just as competitive in the classroom as I am on the field," the National Society of High School says. "Academics are one of the most important factors for me when deciding on which college I will attend."
We got a chance to see Songcuan up close at RADF's Northwest College Showcase and he didn't disappoint. Songcuan spoke highly of his experience at the event, using not only as an opportunity to showcase his ability but also meet other players and college coaches. "Attending the NW College Showcase was a good experience for me. There were a lot of amazing players and showed me some of the competition I have against me in WA state. It was also great exposure to colleges and to meet coaches," he said.
As the season gets closer, Songcuan has been adjusting to his new position as well as studying film to prepare himself for the earlier games on Fife's schedule. "This offseason I have been lifting and running to get bigger, faster and stronger. I'm studying film from the first few teams we're gonna play and preparing myself to do well this season," he says.
Keanu hopes to play football in college, where he plans to study business or engineering. He is someone that has the passion, desire, tools to play and compete at the collegiate level, and we wish him all the best in his pursuit of that goal.