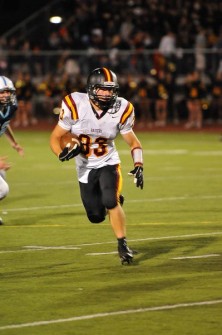 A team in the top 10 year in and year out is the Crescent Valley Raiders. The Scott Sanders-led club is consistently one of the top 5A teams in Oregon, and they play in what is typically the toughest conference in the state other then the NWOC (5A).
This year will be no different as they will battle two of the state's best in league play, in #2 West Albany and #3 Silverton. CV comes back ranked as well, but they have a lot to prove. They lose standout D1 lineman in Austin Powell and Bryan Bodon, but bring back a host of talented kids and a coaching staff that can tell you plenty about the NFL.
All-everything Oregon State commit Tanner Sanders (6-5 200 Sr. QB/S) is back for his 4th year as a varsity starter, after a freshman season that saw him ranked among the top 10 frosh wideouts in the country statistically. He will be in his 3rd year as the varsity QB, missing most of his sophomore year do to injury.
Referencing the up coming season Tanner says, "Last years team was definitely bigger, but we still have good size kids and some playmakers that will come up big. Jacob Bucher, Will Heck, and Michael Chen will all be go to guys and great players, but our JV kids from last year will contribute as well."
Sanders threw for 2,344 yards, completing 57% of his passes for 15 Tds/8 Ints in 2012. He also led the team in yards per carry (8.27), going for 463 yards and 6 TD's on the ground. Add to that two very talented skill kids in Nick Pozzesi (5-10 185 Sr. RB) and Chase McFadden (5-10 155 Sr. Slot). Pozzesi went for 1,204 yards and 13 Tds in 2012, while McFadden was clutch catching a team high 33 passes for 558 yards and 3 touchdowns.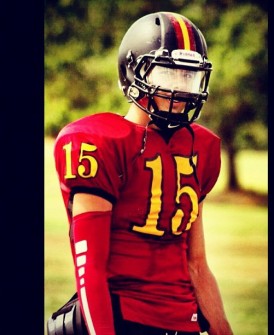 Will Heck will return as the leader on the offensive line and should be one of the better linemen in the state at the 5A level. His leadership will be needed up front, with talented junior two-way standout Connor Hodgert (6-4 210 T/TE/LB) moving to tackle. He will be one of the better junior's in the state moving forward.
Crescent Valley will also feature Hawaii transfer Drew Kell ( Jr. WR), who moved to Oregon with his brother being a DE at Oregon State. He is extremely talented along with 6-5 TE Court Hammond, another transfer.
Defensively Jacob Bucher (6-3 240 Sr. LB) returns after going off last season, averaging 19.2 tackles per game in only 6 contests. Bucher will be a three year all league starter, ranking as one of our top 10 backers in Oregon, five of which already hold D1 offers.
Michael Chen (6-0 250 Sr. DL) is the other kid that will be a big time factor, ranking as one of the state's top D-linemen after accounting for 53 total tackles, 12 tackles for loss, and an incredible 11 sacks.
Two of the better sophomore's in the state include Joe Casey, son of OSU head baseball coach Pat Casey and lineman Henry Riesenberg, son of former talented NFL vet Doug Riesenberg. The coaching staff is legit up and down the board with Coach Sanders having a very successful career at OSU as well.
Speaking on the year and the staff Tanner says, "The coaching staff is great cause its guys that can talk from experience and have invaluable information. We are looking forward to playing Silverton and West, as both are well coached and respected programs."
Coach Sanders runs one of the classiest programs in the state, and he has never been afraid to venture out and play tough non league competition. This year will be no different as they open with CIF champ Nordhoff HS out of (Ojai, CA). Last year they hosted Radford out of Hawaii in the season opener.
CV has a chance to have a special season, but they will need to beat some elite competition. We are excited for the Raiders moving forward and we will bring you updates as they happen.