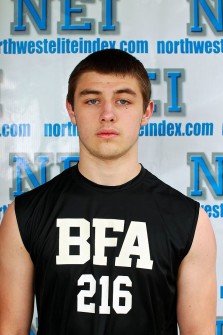 A program on the rise at the 5A level is the Putnam Kingsmen out of Milwaukie. They graduate a majority of their starters from last season , but have talented younger athletes up and down the board.
The 2012 JV squad went 9-1 and the frosh team went 5-2, with the youth numbers being as high as they have ever been. Its hard to put into words how much I respect head coach Brad Lewman. He has dedicated his life to helping others, with the primary focus being the kids education and well being.
Putnam has been anything but a football power over the years, but Lewman has transformed the overall dynamic within the community. Referencing the youth coach says, "Our youth football numbers are the highest they have ever been in the history of Putnam football.. Some of that is contributed by our play for free program, and the fact that the kids know we as coaches care about them…By the looks of our youth camp that was held last week, there is some special talent coming up as well."
On top of all that he brings to the table off the field, Lewman is a phenomenal football mind. Over the past two season's his teams have set record's for total points. Speaking to this years group he says, "Our off season workouts have yielded the largest participation in my 2 years as head coach, and these kids have bought in to the hard work and commitment message that I have been sending since day one."
He continued, "More importantly these kids are about team first, and the WE before ME attitude… Our kids have bought into my philosophy of student first, and because of our constant monitoring, tutoring and communicating, all of our kids will be eligible for week 1."
Brandon Culp (6-1 195 Jr. RB) will be the next special player to come out of Putnam as he could run wild this season. He's a talented overall athlete that looked great on the camp circuit. He should be a NWOC Player of the Year candidate. Richie Mock (So. RB) will be the other talented ground guy, after transferring back from Oregon City while scoring 30 Td's as a freshman.
The Kingsmen will have Cedric Brooks (So. QB) and talented returner Josey Swain (Jr. QB) battling for the quarterback spot. Swain is a quality overall athlete and Lewman is also is high on Brooks saying, "I don't know of another QB that has worked as hard as this kid… He is only a sophomore, but man this kid is going to be special."
They will also bring back some legit receivers with Senior's to be Tyler Strauss and Jo Bradley complimenting sophomore standout Jake Hamilton. Jake looked phenomenal over the off season, and should be one of the better young wide outs in the state.
Coach Lewman says, "Strauss is maybe the fastest kid at the 5A level, and will be a second year starter at WR and someone that will demand double coverage." He added, "They don't get any more athletic than Bradley as he will play multiple positions for us."
Tristan Smith (Jr. TE/LB) and Nick Edwards (Sr. OL/TE) will both have to step up big in 2013 with the loss of senior leader Brady Eberhardt. Lewman says, "At team camp we suffered a devastating loss in senior center and ILB Eberhardt, who sufferd a torn ACL… Brady was going to be an all league offensive lineman this year , no doubt about that."
Putnam went (9-27) from 2006-2009, going (5-6) last season with losses to many of the state's top teams in #1 Sherwood, #2 Silverton, and top 10 opponents Wilsonville and Crescent Valley. When you factor in lineman Austin Snyder (Sr. OL), Junior Hernandez (Jr. OL), and talented young gun Zach Mason (So. DL) the Kingsmen will be young but good to go up front.
The Kingsmen have a chance moving forward with this being a rebuilding year. NEI (5A) 2012 Coach of the Year Lewman doesn't care to have any of the focus on him, but he and his staff should be praised for all of the time and energy devoted. What's going on at Putnam speaks to all that is good about high school football, and we look forward to following the program in the years to come.