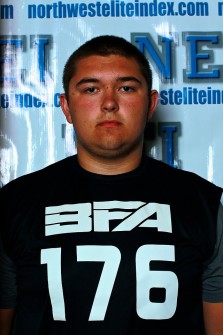 We recently told you about Gig Harbor (Wash.) standout wide receiver Reese Carlson and his commitment to the University of Montana. But Carlson isn't the only college prospect that will take the field for Tides this fall. Along the offensive line you'll find another player who has what it takes to continue playing at the next level in Owen Taylor.
Taylor is a 6-foot-4, 290-pounder who started on both sides of the ball in 2012, earning 2nd Team All-Narrows League honors. As a sophomore in 2011 he managed to start on offense.
He's an incredibly fundamentally-sound player, which is no surprise seeing as he is the son of an offensive line coach. In fact, his father is actually the OL coach for the Tides. Taylor has also spent countless hours honing, training with Barton Football Academy OL coach, former Oregon State Beaver and Chicago Bear, Alex Linnenkohl.
This fall Gig Harbor is looking to get back to its winning ways after posting 5-5 and 3-7 seasons. "Our goals are to win the Narrows League and win a playoff game – and to show the new era Gig hHarbor football," Taylor tells NEI. "As a team we have lots of other small goals for every week of the season as well."
On a personal level, Taylor is hoping to better his all-league honors from last year, and make the 1st Team in 2013, along with some recognition at the state level if things go right. He has also already accomplished one of his goals, being named a captain for his senior season.
"As a team we have been working since the end of our season last year in November. Getting better by weightlifting, running and doing drills run by the older kids all off season," Taylor says. "Personally, I worked out 6 times a week from the middle of November to mid May."
It's that type of work ethic that should help the Tides this fall, and should lay the foundation for Taylor to have a successful senior season individually also.
Off the field, Owen is active in a handful of extracurricular volunteer activities, including a local youth camp, community arts fair (Tidesfest), middle school outreach, high school student mentor panel, FCA, and Tacoma Rescue Mission work, he tells us.
He also carries a 3.7 GPA, takes an AP course load and scored a 26 on the ACT, proving he's as equally dominant in the classroom as he is on the football field.
Recruiting-wise, things are progressing nicely for Taylor. He says has been talking a lot with Idaho and Eastern Washington, and also camped at both schools. He's also been learning a lot about the recruiting process from Carlson. "I really like Eastern. I loved the facilities and I will be going to a game there this fall," he says. "It has been a learning experience to watch Reese, who is also getting recruited and recently committed to Montana. It has been fun to see the different ways the recruiting process happens."
Owen is a player whose stock should continue to rise as the season marches forward, and Gig Harbor definitely is a team to keep an eye on in Narrows League play.