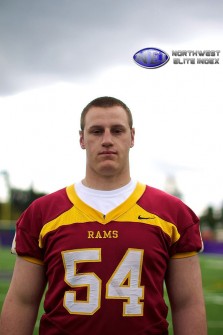 One of the top DE's in the country, Connor Humphrey's (6-4 260 Sr.) of Central Catholic, made his intentions known Saturday committing to the Arizona State Sun Devils.
Humphrey's is a kid that we have gotten to know well over the last few season's as he has been an active member of the Barton Football Academy. He held offers from most of the Pac 12 including USC, UCLA, OSU, Washington, CAL and other national powers such as Wisconsin.
Referencing his commitment he says, "ASU was the best fit for me and it has everything I ever wanted in a college." He continued, "I wouldn't be committing to a Pac 12 school if it wasn't for the Barton camps. They are what helped expose me to all of the college coaches."
The Rams will be ranked Oregon's #3 (6a) team to start the season and they have a legit shot at a state title. Humphrey's will be a three year starter and a favorite for conference and state player of the year honors.
Connor is an honor roll student and a class kid. Look for him to be a factor right away for the Sun Devils.
Connor Humphreys Highlights