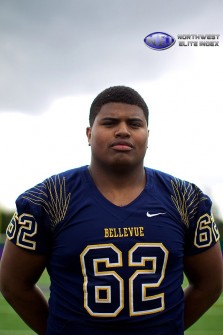 If you're a fan of the Seattle Seahawks, there's a chance you've seen fullback Michael Robinson's YouTube show "The Real Rob Report" where the Pro Bowler interviews teammates, coaches and lets you see life behind the scenes in the NFL.
At Barton Football Academy's final event of the year we put nationally ranked defensive tackle, and Washington State commit, Marcus Griffin of Bellevue (Wash.) with a mic in his hands and had him give us his own version of The Real Rob Report, dubbing it "The RealMG Sports Report" – a spinoff of his nickname "The RealMG".
Marcus caught up with Army All-American, and Bellevue teammate, Budda Baker, asking tough questions such as when he intends to make his college decision and about his recent offer from Texas A&M.
He also interviewed 2016 LB Joel Dublanko of Aberdeen (Wash.), a player who already holds an SEC offer from Mississippi State. Joel had a busy summer visiting a plethora of colleges, which he recapped with Marcus.
Stanford commit Isaiah Brandt-Sims of Wenatchee (Wash.) also spoke with Marcus about his commitment to the Cardinal, and the role he will play when he takes the field in Palo Alto.
Finally, Griffin caught up with NEI's own Jordan "Baby J" Johnson, discussing everything from JJ's fashion sense to previewing Bellevue and Skyline's season opening matchup on Sept. 7 in Husky Stadium.