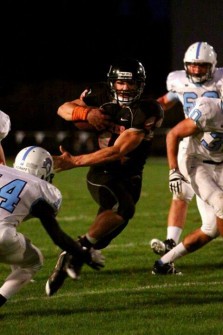 Get used to the name Max Wilson (6-0 205 Sr. RB/LB) as he will be one of the breakout players state wide in 2013. The Silverton Foxes will come back ranked our #3 (5A) team to start the season and Wilson will be a big reason why.
The Foxes went (12-1) last season, winning the MWC, probably the toughest 5A conference in the state. The departure of Conference Player of the Year Chris Garcia will open up plenty of carries out of the backfield. Max was part of Oregon's stingiest defense last year as the team pitched 4 shutouts, allowing 7 points or less 5 times as well.
Referencing the up coming season he says, "Above all we want to go undefeated and win the State 5A Title, while repeating as the State's #1 defense and keeping all opponents total scoring under 100 points for the season."
He continued, "Personally I want to be a 1st Team All State linebacker and running back and and win Player of the Year honors. On Offense I want to rush for over 2,000 yards and score 30 TD's."
Wilson is one of the strongest kids in the state as his lifts speak to his ridiculous upside. He is currently squatting 600 pounds with a 325 bench, and the numbers are only increasing. As impressive as the statistics may be, Max's character and work ethic are the overwhelming X factor when looking at the future.
He has been an active member of young life for the past three years, working on countless community fundraisers as he says, "We have weekly meetings and fundraising throughout the year to raise money for kids to go to Camp at the Washington Family Ranch in Central Oregon…. I have gone with the youth every year as a camp counselor, and I plan on continuing this involvement as leadership has taught me to think about what is best for others first."
We report on a lot of good kids, but its refreshing to see such a grounded and focused individual both on and off the field. Max has an amazing support system at home which has helped him keep his priorities straight. Head coach John Mannion only adds to the arsenal of positive people in his life. He is one of the top high school coaches anywhere in the region/country.
Wilson has set some lofty goals for himself and is currently ranked one of our top RB/LB's at the 5a level. He was one of three Breakout Performers among 400 kids at the premier event of the year in the RDAF Showcase, while being named a conference player of the year candidate in our recent breakdown. We wish Max continued success and will bring you updates as they happen.