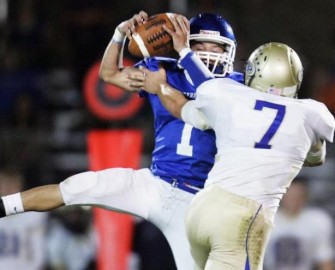 One of Washington's top slot receivers and overall athletes, David Ungerer (5-7 165 Sr. ATH) of Pullman, made his intentions known early by committing to the University of Idaho.
Ungerer went for 1,334 all purpose yards and 4 Td's in 2012, while also leading the team in picks with 4. He is a standout basketball player, and the exception to the rule, as most undersized skill kids have a tough time competing at the D1 level. Referencing the offer he says, "Idaho is a great up and coming program under Coach Petrino. The coaching staff has brought a lot of energy and enthusiasm to the team and I've really enjoyed watching practice."
As we have stated before David is the son of highly respected Utah State running backs coach Dave Ungerer. The young David has thrived growing up in an athletic environment spending countless hours working on his game. He says, "I'm really looking forward to working and playing for Coach Cinkovich who teaches fundamentals and playing hard. I'm glad I have gotten the process over now so I can put all of my focus into having a great senior year with the hounds."
Idaho's staff has stepped in and done a great job, as we were able to get out and do an NEI Campus tour video from their facilities.
Expect to see Ungerer have the ball in his hands a lot this up coming season, as Pullman loses a lot of senior's from last year's (6-4) group. His leadership will be needed and he will rarely leave the field being the top offensive, defensive, and special teams threat that they have.