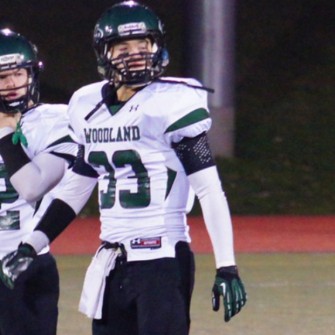 One of the better and more well represented teams in the State of Washington in 2013 will be the 1A Woodland Beavers. We have become familiar with a host of their top athletes, as they have been prominent members of the Barton Football Academy.
The Beavers went (8-3) last season, finishing 2nd in the conference with two of the their losses coming to teams that played for a state title in Mt Baker and Montesano.
First team all-league kids return in QB Hunter Huddleston (6-2 215 Sr.), Kyle Hendrix (6-0 190 Sr. TE), Eli Whitmire (5-9 190Jr. RB), and Trevor Huddleston (5-10 160 Jr. WR). The skill kids at Woodland are legit and will do well, but the line is a question mark. They will be counting on a young up front cast to play beyond their years, as the perimeter athletes will be some of the best in the state at the 1a level.
Huddleston can throw, but is also more then capable of using his feet. Coach Richie Harsh says, "Hunter Huddleston is a beast of an athlete at 6'2 and 215 pounds, running a 4.85 40, and benching almost 300lbs, yes he's the QB."
He threw for 1052 yards with 12 Td's and 3 Int's in 2012, while rushing for 362 yards and 3 touchdowns. Hendrix led the team in receiving with 13 receptions for 314 yards and 6 Tds. Both of these kids have done phenomenal work over the off season, and will have to lead if the Beavers want to make a run.
Hunter says, "We run spread because we are very fast and have speed everywhere, but our line is young with only one returning starting upperclassmen…If we can develop good line play I predict we will be in the final four this year."
Whitmire had an impressive sophomore campaign rushing for 1052 yards and 19 Tds, with a team leading 8.44 yards per carry. Fellow Junior Trevor Huddleston will be the other top receiver, leading the team in receptions with 17 for 234 yards last season.
Junior LB Troy Flanagan (6-0 180) will return after leading the team in tackles, and he will be joined by senior DB's Kolten Snyder (6-0 190 Sr. Safety) and Vince Nigro (5-7 150 Sr.CB). All of the top offensive kids will be playing D as well, so it will be important for the kids to stay healthy.
As Woodland looks to be a program on the rise, the younger generation is in tact as well. 8th grade standout quarterback Wyatt Harsh looks to be one of the more talented QB's in the region, as he will only help to keep the momentum going in the small Southwest Washington town. Harsh has been training with Taylor Barton since the 4th grade, and is talented enough to come in and play as a freshman. We will keep you updated on all of the Beavers as the 2013 team could be one of the best in school history.