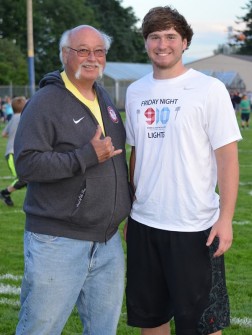 You could argue that Meridian two-way lineman Spencer Blackburn has already accomplished enough on the field heading into his senior year to leave quite a legacy with the Trojans.
Blackburn's accolades include being a two-time all-league selection on both sides of the ball, and 2nd AP 1A All-State recognition defensively as a junior.
But Blackburn has something else up his sleeve to leave his mark on the football program and community at Meridian. As part of his senior class project, Blackburn is hosting a youth football mini-camp for 1st through 6th graders on August 29th and 30th, from 11AM to 1PM – appropriately named "Spencer Blackburn's Trojans Mini Camp".
The camp will be instructed by Blackburn and other varsity football players, as well as legendary Meridian head coach Bob Ames.
We caught up with Spencer to learn more about the camp, and what prompted him to select this as his senior class project. "[Former Meridian player, current Seattle Seahawk] Andrei Lintz did a similar project in 2006, which is where I first got the idea, and I have wanted to do it ever since then," Blackburn told NEI. "The Seahawks recently hosted a camp at Civic, and a lot of the drills we learned there, we will be doing at my mini-camp."
Though a senior class project is a graduation requirement, Blackburn wanted to do something that would have an impact on the youth in Northern Washington. It also happens to be a project that fits one of his career ambitions.
"I have a desire to coach, I've always wanted to," Blackburn says. "Every coach I've had says they think I have the qualities of what it takes to make a good football coach"
The mini camp costs $25 dollars, and each camper will receive a custom-designed Trojans water bottle as well. You can get registration info for Spencer's camp here.
All of us here at NEI think very highly of Spencer as both a player and an individual. We wish him success both with his mini camp and with the Trojans this fall.