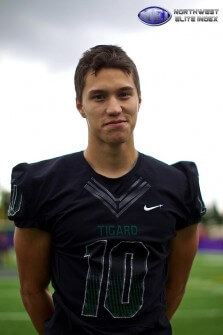 If we are talking top programs from the youth on up, one of the first Northwest schools that comes to mind is Tigard. It's an outstanding community where winning has become the norm.
The Tigers have been dominant over the years, making a trip to the state semi's last season and finishing (11-2) on the year. They have consistently won Pacific Conference titles and this year looks to be no different. Tigard will most likely be done by halftime in most regular season games, not counting the season opener versus Canby and the traditional clash with Tualatin.
Player of the Year candidates line the roster with Manu Rasmussen (6-0 175 Sr. RB/CB) and AJ Hotchkins (6-0 230 Sr. FB/LB) highlighting another impressive group. Rasmussen returns after a second team all league season at DB. He projects as a kid that will go for 2000+ yards and 30 Td's, as he is on the D1 bubble with a host of schools.
Hotchkins may be the most violent hitter to ever come out of the Northwest, already holding 4 D1 offers (Montana, PSU, N.Colorado, Idaho). He was a 1st team all league kid on both sides of the ball in 2012 playing the D end spot. AJ should be considered one of the top 5 fullbacks in America, and a perfect fit for a high level D1 program that still features the position.
The X factor could be QB Jett Even (6-4 190 Sr.) as he was the breakout quarterback of the off season. Even picked up multiple off season awards and has legit size. If he keeps focused he could play a high level of collegiate football.
Another breakout performer could be Sr. Slot Daren Rodrigues (5-8 170), who broke opponents ankles on the Barton Camp and Combine tour over the last few months. Add in two very talented skill kids in Junior's Sam Inos (5-11 180 Jr. ATH) and Landon Floyd (5-11 185 Jr. RB/DB) and you have a plethora of weapons at the Tigers disposal.
The O line will feature returning senior Janak Ward (6-2 240 OL) and one of the largest and most talented young up front casts in the region. Sophomores Connor Krisp (6-4 275 OL) and Derek McMurray (6-6 340 OL) headline a group that will move mountains in the years to come.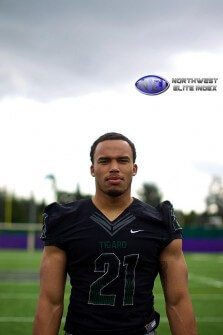 Defensively, Jake Biglow (5-11 220 Sr. LB/TE) is back after a first team all league season on both sides of the ball, with DE Nick Duron (6-4 210 Sr.) looking like one of the breakout defensive players state wide. He has added 20 pounds over the off season and brings his Cali swag to the field each and everyday. Joe Lobbato (6-3 215 Sr. OL/DL) will be the other senior that will need to play lights out for the Tigers to make a deep run. He should start on both sides of the ball with Cameron Yarnell (6-1 185 Sr. LB/TE) playing a role as well.
Tigard is as talented as anyone in the state at the skill positions, but the line will need to step up as they are unproven. Referencing the season all-everything athlete Rasmussen says,"Our team this year has a lot of young talent and returning seniors…We have overwhelming speed on both offense and defense, but I think our physicality and team speed on D separate us."
Legendary head coach Craig Ruecker will lead a group that will once again be the overwhelming favorite to win the conference title. We will have them ranked #5 in Oregon to start the season. Other individuals that will be a factor include senior's Jacob Mullen (5-8 200 Sr. DL), and Nathan Wick (6-0 205 Sr. C) on the line, and junior's Brady McGetrick (6-1 170 Jr. WR/S), and Jacob Spadafora (5-11 180 Jr. Slot) on the perimeter. You will also see junior standouts Marcos Vermelho (6-3 215 Jr. DE), Kevin Henderson (6-0 305 Jr. OL/DL), and Tyler Walker (5-10 180 Jr. LB) get in the mix as well.
Junior QB JT Greenough (6-3 190) will be one of the better signal callers in the 2015 class, but he will most likely have to wait his turn behind Even. If Tigard does what they are capable of they could win a title as Rasmussen added, "Personally I feel like I have everything to prove , as its my senior year and i'm the primary running back..I will have a big role on this team and I need to help guide our guys in the right direction."
I can't say enough good things about Rasmussen, Hotchkins and the entire group. Its one of the most respected programs anywhere in the west and this year will be no different.