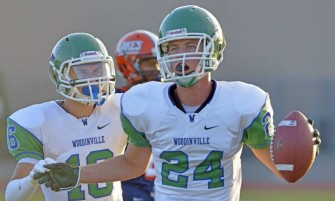 One of our top ranked receivers in the state of Washington, Drew Accimus (6-4 200 Sr. WR) of Woodinville, will be a big factor for the Falcons in 2012. The talented wide out will be surrounded by legit skill kids that include the likes of Alek Kacmarcik (6-2 215 Sr. SS/RB), Wyatt Smith (5-8 180 Sr. RB), and Ian Biddle (5-10 175 Sr. DB).
Quarterback Will Jack will also return, looking great over the off season as Drew says, "Will Jack will be another athletic quarterback for us, showing lots of potential in his 2 starts last year against Lakes and Mariner high school."
The Falcons will open regular season play in the state of Alaska which will be a telling journey. Accimus adds, "Our first game takes place against Palmer High School, a team up in Alaska, so we all get to fly up there and play them… It's going to be a great experience for us to bond as a team and we're all looking forward to it."
Drew led the team in receiving last year, catching 25 passes for 411 yards and is also one of the better baseball players in the region. Kacmarcik is one of the top Safety's in Washington and received his first D1 offer from EWU a few months back. He brings size and speed to the table, and will also be featured out of the backfield with last years leading rusher Wyatt Smith. Accimus says, " Both of those guys are tough and will be solid for us.. Alek will also be huge in the secondary along with Ian Biddle who will move from corner to safety."
Woodinville is (18-4) over the last two seasons, making a state semifinal run in 2011. Its an outstanding community that loves there football. Andre Dillard (6-5 250) will be the featured lineman already holding offers from Idaho, Eastern Washington, and PSU. They won't be deep up front but they are well coached and should do well.
Referencing the team as a whole Drew says, "At Woodinville we've established 3 team goals for the program that we will work to achieve: Being the most physical, hardest working and most competitive team in the state.. That's something that we remind ourselves about every day and pride ourselves on accomplishing."
He continued, "As a team we all push each other to work hard, and hold each other accountable both in the weight room and on the field as we will let the results speak for themselves." We are excited for Accimus and the Falcons in 2013 as you can expect the kids out of Woodinville to be legit once again.