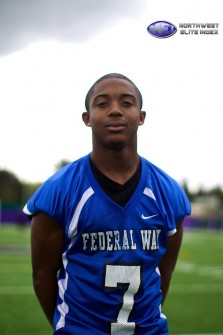 If you just go by what he looks like now compared to last season, 2015 Federal Way RB Chico McClatcher is prepped for a huge junior season. He spoke to Northwest Elite Index recently and updated us on recruiting as well as how his offseason has gone.
"We're ready to do some big things," McClatcher told NEI about his team. "We've been working hard getting ready for the season and we felt like we fell short of our goals last year, so this year we have that focus on the big prize and that's getting a state championship.
"I'm up to 180 pounds too. I've been lifting a lot and eating better and that's really helped me. I was about 168 last year, so I've put on about 12 pounds."
Last year, McClatcher shared playing time in the Federal Way backfield, but his fall he should be the primary ball-carrier and also will be used as a receiver as the Eagle coaching staff does their best to get the talented playmaker in space.
"I just feel like every time I get the ball in my hands, I can score," McClatcher said. "It's not all about the big play though. If I have to lower my head and run a guy over, that's what I'll do. I just want to help my team any way that I can."
On the recruiting front, McClatcher still sports seven offers — Arizona State, Boise State, Portland State, UCLA, Utah, Washington and Wyoming — and he's got several more schools eyeing his talents.
"Things sorta slowed down for me this summer as I was going through camps and stuff like that," McClatcher said. "I'm going to take some unofficial visits this month, probably to Oregon and Oregon State and probably over to Washington State, to see them practice and I'll for sure be up at Washington for some practices too.
"I'm not in a hurry to make a decision. I want to see what other schools have to offer and which other schools offer me during my season or after it. I'd like to go through the process and see different schools and hopefully I get that chance."
McClatcher and his teammates began preparations for the 2013 football season on August 12th and kickoff things with a game at Rogers (Puyallup) on September 6th.