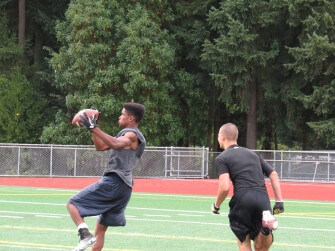 The talent on the roster at Seattle (Wash.) O'Dea High School is as deep as it's ever been. Players like Pierre Le Dorze, Myles Gaskin, Jack Flor and Jarius McDade – just to name a few – are all big time high school players with potential to have success at the next level as well.
Because O'Dea's offense is so run-oriented, one name that sometimes gets lost in the shuffle is talented two-way athlete Mikel Owes.
Owes is a 6-foot-1, 176-pound junior-to-be who earned honorable mention All-League recognition offensively last year, while also earning 2nd Team honors on the defensive side of the ball. Owes has speed too – he ran an 11 second-flat in the 100m dash.
The success Owes had on the field last fall has only made him hungrier for more of the same this season, as the Irish hope to bring home the Metro League crown. "My personal goals for this season is to be All-State, but also the most important thing, is to be a major contributor to my team," Owes tells NEI. "To help as much as I can, so we can achieve our team goals. I believe if I try my best as an individual, it will be a great contribution to the team as a whole."
While that aforementioned Metro League championship is always the expectation around the O'Dea program, Owes says that the team remains focused on only what is in front of them. "Our goal for this season is to play as a team and a family," he says. And to focus on one game at a time. Nothing is promised to anyone, so you've got to treat every moment like it's your last."
The senior leadership has done a great job at O'Dea setting the example for Owes and the rest of the class of 2015 – a group that has already started taking their own ownership in the program, and clearly has a strong chemistry amongst it.
"I worked hard and worked on my speed, hands and route running. A couple of players on the team like to workout together and challenge each other. Myself, Myles Gaskin, Dylan Ledbetter, Che'lon McLenna, Davarea Proctor, Kaleb Swain and Joey Richards – all of us in the class of 2015 – have really tried to do our part and follow the senior's example," Owes says.
With a deep roster, a strong running attack, and a viable option in Owes when the Irish do decide to attack opposing defenses through the air, there is no reason to believe that O'Dea can't find itself playing in the Tacoma Dome at season's end.